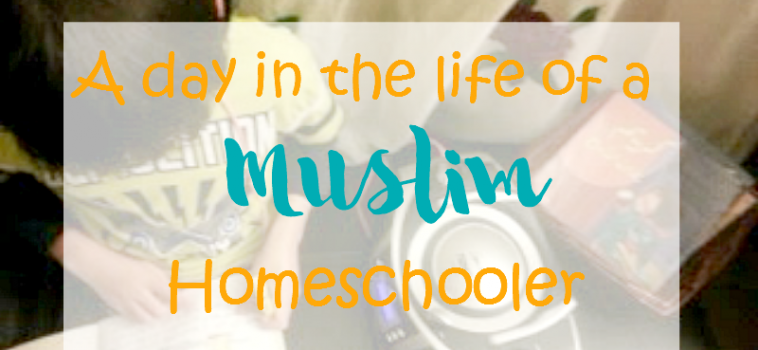 Blog Post by: The Muslimah Guide.
I often get asked about what a typical day as a homeschool mom of four energetic munchkins look like.
Well, it's hard to answer that question when every day is a bit different (lol). I will have to admit that we have changed things around with our
homeschooling schedule quite a bit since we started.
This is how we used to start our day…
Because we sometimes fell behind schedule, the Islamic studies would sometimes get neglected (okay, often :S ).  Classes were organized like the traditional ones with a teacher (me) teaching the group of students. Since I have 4 children from Kindergarten to 5th grade, I tried to do group lessons as much as I could.  I thought it would be easier, with only 4 children. There would sure be less distractions than in the regular classroom with 25 or more kids, right?  Well, not exactly.  It seemed like a lot of time was still being lost in "classroom management." ("Mom, she kicked me. Mom, he's laughing at me"…You get the idea)
So as the days went by, and the enthusiasm and energy started wearing off, I became exhausted. Noon time, after hours of teaching to sometimes very rowdy kids, I would have to change hats, and be the lunch lady, and janitor.
"No fair!" I thought.  Teachers in school didn't have to teach and worry about what to cook for lunch for their students, and put in loads of laundry!  Also, I didn't like the fact they were missing out on a lot of subjects, especially the Islamic Studies.  I knew changes needed to be made. So, one of the first things I did was to switch the schedule, and have Islamic/Arabic  studies first.
Alhamdullilah, I have noticed a big difference it has made. Having the children learn Quran/Islamic Studies first was one of the best things that happened to our homeschool.  It sets the pace for the day, and shows them where the priorities lie. Children learn many aspects of Islam in their Islamic studies book, but most importantly they learn about Islamic manners.  In a world where parents are now racing to make their children the next Einstein, good manners got pushed aside.  Walk in the halls of public schools, and you will see children talking disrespectfully to their teachers, and peers, kids cutting each other in lines, littering, etc.  Unfortunately, it is an epidemic that has hit many Muslim families as well.  Although we may want our children to grow up to have "successful" careers, we also need to realize that all the money in the world will mean nothing, if our child has not learn even the basic of manners. So, I decided Islamic studies, and Quran, the ultimate guide for all mankind, had to be the priority in our homeschool.
Of course, this does not mean we do not study other subjects.  We still have a lot of subjects and tasks we have to tackle each day, and since I have relatively young kids,  I decided to do something which worked like a charm in most preschools.
You can read the rest of this article at The Muslimah Guide