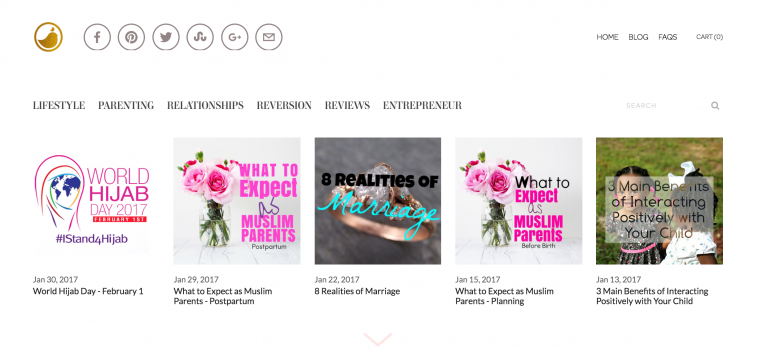 Our February 2017 Featured Blogger is Raya from Muslim Mommy USA.
Raya Najjar is a Muslim revert since June of 2010, mother of 2 children, and devoted wife. She is a web and graphic designer by night, and a blogger by weekend. She's also a retired event coordinator, cake artist, and Nurse in her earlier years, but in the end blogging is her passion. Raya actively researches and reads about family dynamics and child psychology to help her family's growth and nurture her children. She believes that open communication, especially to her children is a very important part of their growth and development.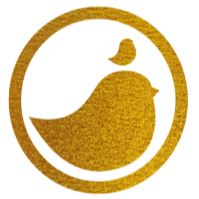 WHEN AND WHY DID YOU START BLOGGING?
I started Muslim Mommy USA in 2013, and officially launched it on June 1, 2016. My main goal for Muslim Mommy USA is because I wanted to help parents gain a better sense and understanding of, and become more positive parents to their children – starting with myself of course. Now being a mother of two, very active daughters, I needed to improve my understanding of them on a psychological and emotional level, because I did not feel I was equipped. I also wanted to provide parents with a few learning aids, such as the Arabic alphabet and Surat al-Fatiha flashcards, in sha Allah.
DID ANYONE, IN PARTICULAR, INSPIRE YOU TO START BLOGGING?
Alhumdulillah, my first-born daughter did. I felt this urgency to want to make things for her, and figure out how I can change inwardly to become a more competent and positive parent. I grew up not in my parents care, and some of my caretakers were very authoritative. They taught me things of value of course, such as love, caring, kindness, etc. However, I don't believe that authoritative parenting is the type of parenting style I wanted to adopt for my own children, sub han Allah. I found that it was a much stressful way of parenting – to command and demand – and then you are met with disappointment whenever those commands and demands are not met by your child. I feel that when we are authoritative as parents, we don't give enough room for cognitive and reflective thinking, as well as taking away the choice for our child to be more behave, responsible, or speak respectfully.
WHAT'S THE MOST CHALLENGING THING ABOUT BEING A BLOGGER AND BLOGGING?
As a mother, finding the time to write an article and scheduling. When you have children, your life literally revolves around their schedule, and I've found throughout my blogging years (since 2002) that you cannot make sacrifices as a mother. Your children and family life come first always, in sha Allah.
HAVE YOU HAD ANY OPPORTUNITIES ARISE AS A RESULT OF BLOGGING?
I'd have to say that the best opportunity I had was to have been able to get a hold of Family Therapists and Psychiatrists to learn about my children on a deeper level. Aside from that, getting to network with like-minded Mommy bloggers, and learning about them and what they're about is a definite benefit. I feel closer to the Muslim community, though I've never met many of them, alhumdulillah.
WHERE DO YOU SEE BLOGGING 

IN 5 YEARS? 

WILL YOU STILL BE DOING IT IN SHAA ALLAH?
I'd hope to see Muslim Mommy USA grow into something more than just a blog. An online publication or magazine maybe? I do hope, in sha Allah, that it will continue for many years to come.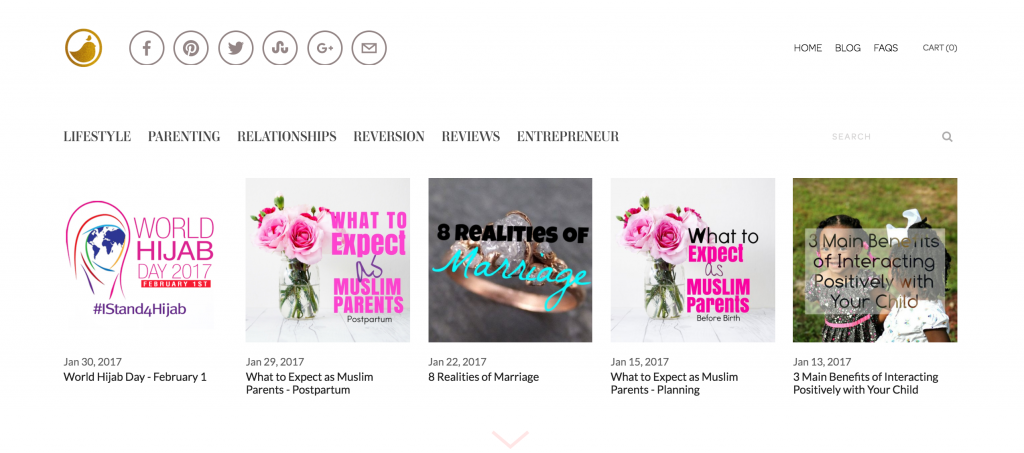 WHAT ARE YOUR FUTURE GOALS FOR YOUR BLOG? IS THERE ANYTHING SPECIFIC YOU ARE AIMING FOR?
In sha Allah, Muslim Mommy USA will continue its growth and attract more contributors to write about what they are passionate about. We're also aiming to create some ebooks pertaining to pregnancy, motherhood, and everything family oriented.
WHAT ADVICE AND TIPS WOULD YOU GIVE TO SOMEONE WHO MAY BE THINKING OF STARTING A BLOG?
Do your research first, and create a blog business plan. It will serve you well. A great blog business plan will show those who are looking into blogging who their audience are, keywords, ways to market, branding, blog opperations and everything else you need to know to be able to run a smooth blogging career, in sha Allah.
************************
JazakAllah Khair to Raya for taking the time out to answer our questions. If you wish to connect with her further you can find her at:
Blog: http://www.muslimmommyusa.com/
Facebook: https://www.facebook.com/muslimmommyusa/
Pinterest: https://uk.pinterest.com/muslimmommyusa/
Twitter: https://twitter.com/muslimmommyusa