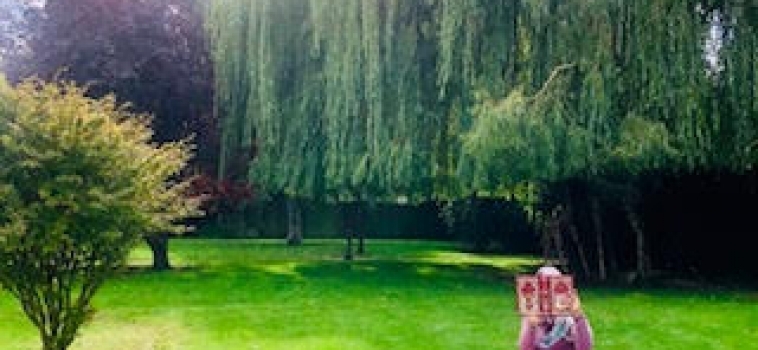 Our March featured blogger is Asma from Scribendeen. She is a literary-loving Muslim mum of four based in the UK. Her blog is where she combines her passion for reading, writing and Islam – all with a healthy dose of coffee.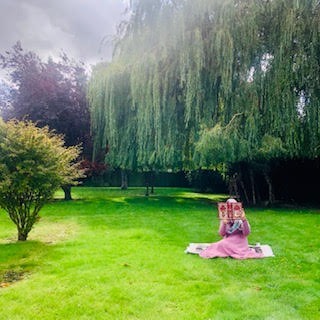 WHEN AND WHY DID YOU START BLOGGING? DID ANYONE, IN PARTICULAR, INSPIRE YOU TO START BLOGGING?
I've been wanting to blog for so many years purely because I enjoy writing! At first, the intention was to blog about life in Makkah and our daily happenings, but I just never sat down and got on with it (story of my life!) I finally started my blog last year with an entirely different premise, but I love it. I would definitely credit mamateachesme for giving me a push, helping out with newbie queries and general support! 
 
TELL US A BIT ABOUT YOUR BLOG, THE INSPIRATION BEHIND THE NAME AND HOW YOU DECIDED WHAT TO BLOG ABOUT.

My blog is a space where I combine my love for reading, writing and Islam. It started off as an extension of my instagram account, where I share all things bookish, but I wanted it to be more than just sharing in-depth reviews of whatever I'm reading – I also wanted a space where I could share Islamic knowledge. I studied hard for a second BA in Islamic Studies and didn't want that going to waste. I always intended to convert a lot of what I learnt into articles as a way to solidify my learning, but to also benefit and inspire others.  A blog seemed the right place to do all that and hopefully it'll become a source of sadaqa jariyah in time, inshallah, as well as a place to just be me  As for the name, Scribendeen is a mash of 'scribendi', which means an urge to write, and deen! I think it reflects what the blog is essentially about quite nicely!
WHAT'S THE MOST CHALLENGING THING ABOUT BEING A BLOGGER AND BLOGGING?

I'd say the most challenging thing is being consistent in writing and setting a routine that allows time to do that. I find it hard to write in noise, but having the house to myself isn't an option! I need to make the most of pockets of time in the day when the younger ones are occupied. 
DO YOU STRUGGLE TO FIND THE TIME TO BLOG? HOW DO YOU MANAGE YOUR TIME?

As a mum of 4, time to myself is pretty scarce – I think all mums can relate to being stretched further during lockdown! It's definitely been a struggle with the kids home and by the time they're in bed, I'm just too tired. My husband has also started a blog so we've tried to create one evening a week just for blogging! i say try – I'm getting there  The only way to manage is to carve that time out. 
HAVE YOU EVER FELT OVERWHELMED WITH BLOGGING?

I'm still a relatively new blogger who is figuring things out. I find the technical aspects of blogging to be the most overwhelming – just being clued up on SEO and how best to promote blog posts etc. It takes time to research.  
HAVE YOU HAD ANY OPPORTUNITIES ARISE AS A RESULT OF BLOGGING?

I'd say my opportunities have come from my instagram page; however, having a blog is going to be helpful when and if I decide to take things a little further.
WHERE DO YOU SEE BLOGGING IN 5 YEARS? WILL YOU STILL BE DOING IT IN SHAA ALLAH?
I think blogging has exploded since the pandemic and anything techy is here to stay! I'd love to still be a part of this online journey in the coming years and hopefully be a pro at it. I did question whether I should even bother to keep going after only a couple of months, but as funny as it sounds, I really enjoy just looking at my page! I'm quite proud of it and I love that it's there. Even if I don't write as much as i'd like to, i know it's around and it'll always be something to work on. 
WHAT ARE YOUR FUTURE GOALS FOR YOUR BLOG?

I'd love to see my blog bursting with articles in each section i've headed up so people can have a super browse and leave a little inspired  I have a particular interest in 'purification of the soul' and have given talks related to that several times so i'm working on getting that into blog format. I also want to involve more of the online community (some known names and some hidden gems) to share their love of reading in the form of interviews so watch this space.
WHAT ADVICE AND TIPS WOULD YOU GIVE TO SOMEONE WHO MAY BE THINKING OF STARTING A BLOG?
Don't wait 10 years like me to get started; silence your inner critic and just sit down and write. 
Have a writing intention. What is your purpose and drive? And who is your target audience? Thinking about those questions will help your writing 'voice' and style and content. 
Aim to have 3 polished posts ready to go up on the blog before you begin so you're not panicking about writing something new straight away. 
JazakAllah Khair to the sister Asma for taking the time out to answer our questions. If you wish to connect with her further you can also find her on social media: