Our first featured blogger of 2021 is Taskeen from Muslimah By Design. Taskeen is a Mom of two toddlers, and a Certified BodyTalk Practitioner based in Istanbul currently, offering remote body and mind sessions for clients all over the world. She blogs to inspire mindful living and closeness to Allah. With a background in Marketing and Business, she brings the skills needed from the boardroom to the playroom by passionately sharing simple ideas and tips to help busy moms manage their time and their tots!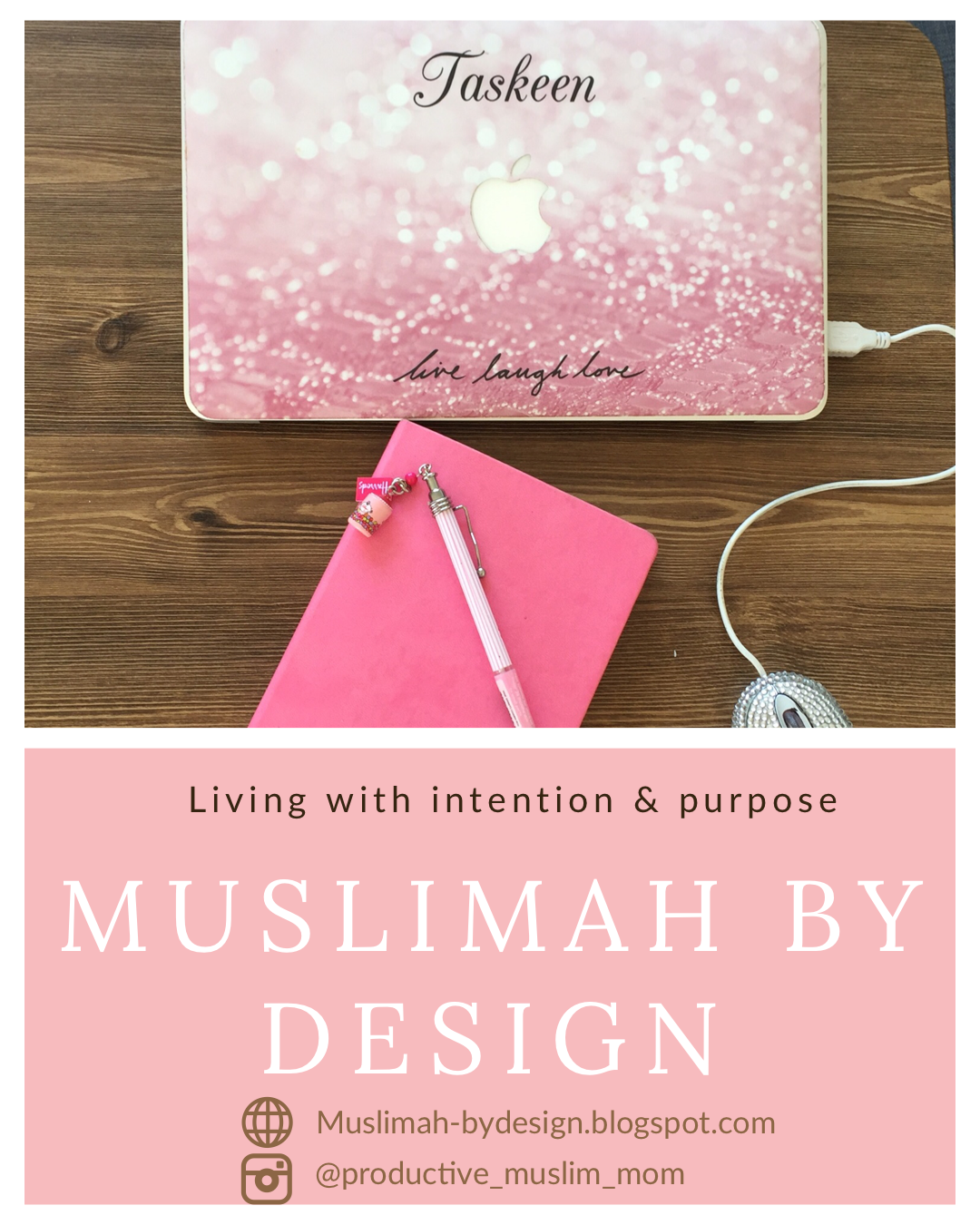 WHEN AND WHY DID YOU STARTÂ BLOGGING? DID ANYONE, IN PARTICULAR, INSPIRE YOU TO STARTÂ BLOGGING?
I started blogging around 2006- when it just started as a thing – but not a thing like today!! We blogged just as a passion, rarely stating it as a job as it's become today. My husband introduced me to the world of blogging and I enjoyed capturing and sharing my thoughts online- it was a remarkable way of reaching people I would have no other way of connecting to otherwise and this was really exciting. (Fun fact: It was so long ago, that I think I spoke about intending to showcase our "Girl Power" or something!) Anyway, fast forward to today, and I blog now as a way of sharing what I learn in my own journey to grow and develop. I hope to inspire and uplift others Insha Allah and blogging is a great platform for this. I believe in playing a role in creating a positive narrative of what it means to be a muslim woman and given the Internet is now a go-to source for content on learning about Islam, I am passionate about contributing towards positive and practical content that could help people develop closer to Allah.
Personally, blogging also gives me "me time" and a way to cultivate my passion and do what I love. As a mother, sometimes finding your own identity can be a challenge- blogging gives me an opportunity to carve my own space and I love the interactivity with other moms on Instagram and learning and sharing with others as we all try to do our best as muslimahs and moms.
TELL US A BIT ABOUT YOURÂ BLOG, THE INSPIRATION BEHIND THE NAME AND HOW YOU DECIDED WHAT TOÂ BLOGÂ ABOUT.
My blog started out as "Muslimah for Life". It captured everything I wrote about in my journey trying to be the best Muslimah I could- spiritual reflections, ways to improve my life, etc I recently changed the name to "Muslimah by Design" as I felt it needed a more modern take – the name now signifies to me the concious effort I need to take to truly live up to the title "Muslim woman" and reach my purpose in life – and every step I take every day contributes to this. I share thoughts on spirituality in a practical way like as I'm studying tafseer of the Quran and come across amazing lessons, or a thought on self development and mindset in life, love for cooking and trying something new in the kitchen (I call it the "Masterchef" series) , or under the "Turkish Tales" series about travel and living abroad (currently Istanbul).
My blog has also evolved to capture my fairly newish role as a Muslimah Mom, Alhamdulillah! I have a passion for productivity (coming from years in corporate managing projects and working with deadlines!) So now I also share practical materials to help busy moms get the most out of their day. I share tried and tested play and craft ideas for toddlers and resources or tools that I couldn't find online and made up myself – to help moms save time and effort! I have a matching Instagram account for this (www.instagram.com/productive_muslim_mom)
WHAT'S THE MOST CHALLENGING THING ABOUT BEING A BLOGGER AND BLOGGING?
Managing your time – as blogging is a blend of creativity and a bit of logic meaning in order to write great posts you need to be in the right mental space for content to flow! As a mom of two this is challenging so I have been working on finding the balance with my blogging time and other things on the go.
DO YOU STRUGGLE TO FIND THE TIME TOÂ BLOG? HOW DO YOU MANAGE YOUR TIME?
For my instagram posts, it's such a passion for me I don't regard it as "work" so whenever I feel relaxed (like if we're out at the park), or over breakfast, I find myself in the space to get out some posts and maye create some interesting stories. For my online blog I find I need more time as the posts are longer, and require formatting, Pinterest links etc. So for this, I dedicate a specific time "slot" (let's face it, that's usually what we get as moms!) one or two mornings a week to write.
HAVE YOU EVER FELT OVERWHELMED WITHÂ BLOGGING?
Yes, because I'm actually managing several social media accounts together with my online web-blog! I also have a business Instagram account, website and youtube channel for my Holistic health practice. What helps with all of this is prioritising and planning.  I follow a general content calendar that gives me structure around my posts making it easier- and the thinking is done once – after which it's just execute and post! And if the structure is there, then the creative process of writing and selecting images is so much fun 🙂 I also try to have posts prepared in advance if I can to help keep posting consistently even on particularly busy days. Oh and keeping a note opened on my phone to capture ideas for posts that randomly pop into my head helps alot!
HAVE YOU HAD ANY OPPORTUNITIES ARISE AS A RESULT OFÂ BLOGGING?
I have written for Sisters Magazine and submitted many articles for online portals. I guess you could say my experience blogging has contributed to being able to write for publications, Alhamdulillah
WHERE DO YOU SEEÂ BLOGGINGÂ IN 5 YEARS? WILL YOU STILL BE DOING IT IN SHAA ALLAH?
Yes, I do hope so Insha Allah. I'm sharing parenting resources and tips as I grow up my kids who are just toddlers now – so as a Mom's job never ends I might be here blogging away, for a very long time to come!
WHAT ARE YOUR FUTURE GOALS FOR YOURÂ BLOG?
I recently learnt from the very supportive Muslimah Blogs community the importance of Pinterest and SEO. This is my next priority to address Insha Allah. Leveraging these channels are key to increasing reach- to amplify the content I am sharing insha Allah.
WHAT ADVICE AND TIPS WOULD YOU GIVE TO SOMEONE WHO MAY BE THINKING OF STARTING AÂ BLOG?
Think about the "why" you are starting to blog. Keep this in mind whenever it gets overwhelming, or if you lose motivation. It's ok to take a break – I took a giant break for a couple of years when my priorities shifted and my "why" didn't apply anymore. However, when I was ready to start again, I considered my intention and reason for doing this. Keeping focused on your "why"  will keep you on track and content will flow if you're aligned to your purpose and believe sincerely in making a difference Insha Allah- one blog post at a time!