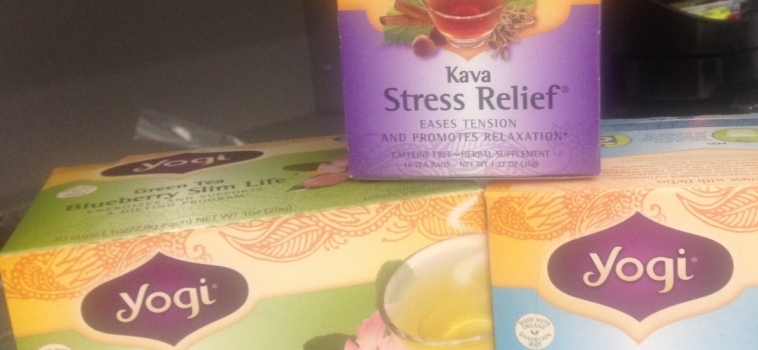 Tea drinking is extremely common in South Asian and European countries. In America, everyone runs on Dunkin. Being from a South Asian background, I am used to my mom drinking two cups of tea or 'Chai' every day. People from my generation, I find, are less inclined to have tea as often as our parents but are getting wrapped up in the Coffee influence. For me, almost neither are true. I only drink coffee or tea occasionally when I visit a Café or if I'm extremely tired and want some caffeine. Even then I am not a huge fan of coffee as I do not want to become addicted.
I came across Yogi Tea brand actually by coincidence. A few weeks ago, while eating lunch with my co-worker we were discussing our diets and she mentioned the tea brand called Yogi Tea and told me how they have various flavors, which she enjoyed. Intrigued, I decided to look up this brand and see what I could find.
Ever since I started my job though, I began drinking a cup of Café Mocha, Hot Chocolate, Green tea or a Lemon tea almost every day. My office has K-Cup machines with these flavors and other flavors in K-Cups provided in the kitchen area, so it is extremely convenient for people to binge on these drinks. I quickly realized these are not healthy choices to be having everyday as they contain caffeine and often times after drinking these, I felt bloated. I decided to stop myself from drinking these, once I began my new health regime. So after this conversation with my co-worker, I visited the main website for Yogi Tea, and was impressed with their wide array of tea flavors. When I went to the store, I saw the display stocked with all of the Yogi Tea brands and felt like buying all of them (of course I didn't do that haha) I decided to buy 3 for my first purchase, all different from one another. The 3 kind I bought are: Green Tea Blueberry Slim Life, Detox, and Kava Stress Relief.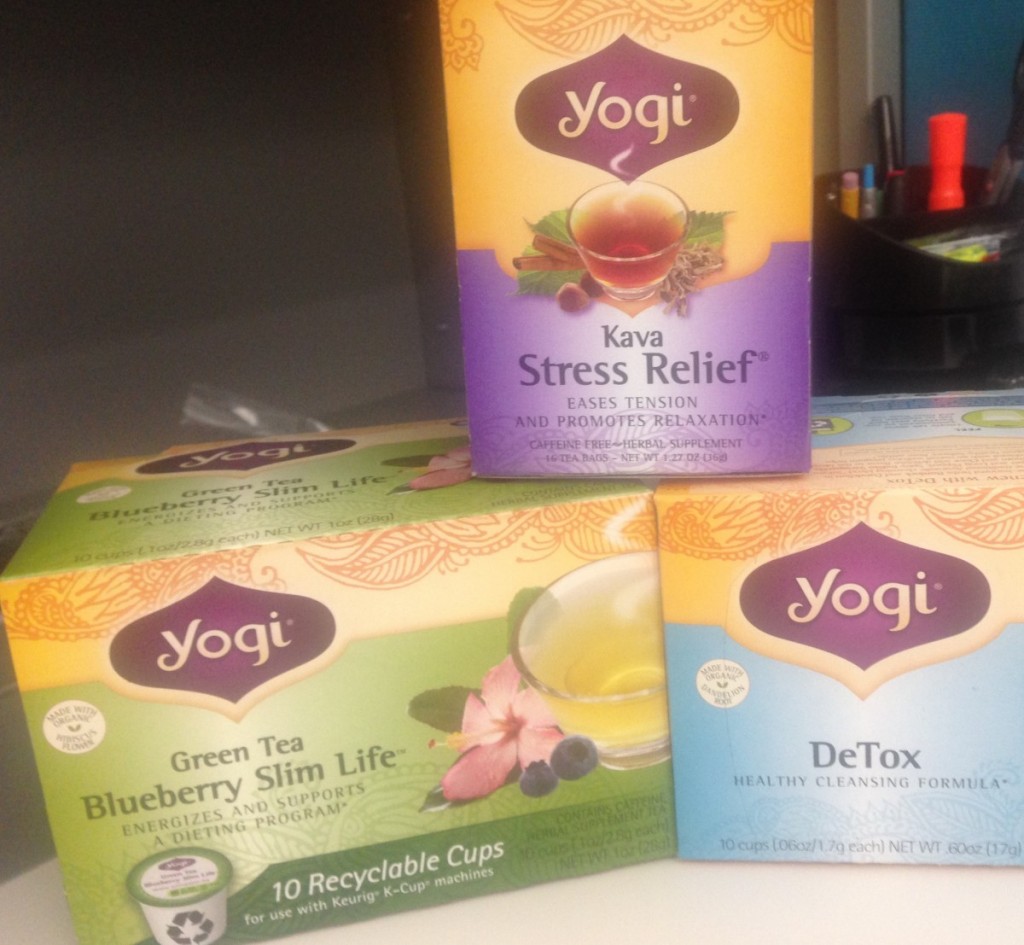 I figured these would be a good variety to begin my Yogi Tea journey on and I am glad I chose these three!
The first tea I tried was the Green Tea Blueberry Slim Life. I read various reviews online claiming that this one helped people lose weight and keep them from their cravings. Since I am on a healthy lifestyle and am trying to lose a few lbs, I wanted to see if this was true for myself. Green tea as we know, is a healthy tea for many reasons. It is filled with antioxidants which are beneficial for your health overall and the tea is more soothing and calming than a caffeine filled coffee. The effects of Green tea on weight loss are helpful as it does not negatively affect your blood pressure. Of course the effects are slower, but with proper diet and exercise, this tea can go a long way. I took the tea, around 3 pm or so, when my work day is close to end and after lunch. This time for most people, is a snack time or the time when I feel like I might eat something unhealthy. So this time for me is the best to have this tea as it keeps me from eating for the next few hours. Now let's discuss this tea a bit further:
Main reason for purchase: I enjoy green tea, wanted to see what a flavorful green tea would taste like, the added bonus of diet control and diet aid also was a winning point for me.
Taste:  I really enjoyed the taste. The taste and smell of blueberry was really soothing to me. I was expecting it to be a bit bitter, but surprisingly it really isn't to me. The blueberry is definitely keeping it from being bitter like some green teas are, and the taste is not like medicine at all. It is quite enjoyable and light feeling tea.
Effect: The tea is filling me up and I can feel this suppressing my hunger for a few hours as well as giving me light energy to get through the remainder of my day. Of course if you are only trying this for weight loss, you will have to try this for longer period of time and increase your intake to maybe 3 cups a day, to get those effects.
Recommendation: Green tea is effective for your organs such as kidney and bladder, it will help wash away toxins that are not good for your body. I would definitely recommend this product to a friend or anyone looking to get into tea. The faint blueberry 'zing' in this tea makes this tastier and more enjoyable to drink. For added taste or if you find it too bitter, you can add some milk or honey to this tea to enjoy it. Increasing your intake of this tea will also let you see the results faster, so of course this is up to you. I would definitely give this tea 4/5 stars.
The next tea I tried, was the Kava stress relief tea. Now I had never really heard of or done any research on Kava before purchasing this tea. Various people have stated their dislike for Kava because the taste is not pleasurable.  However, Kava is the ingredient that leaves you with the calm and soothing feeling. After reading a bit about how unpleasant the Kava taste is, I was a bit hesitant to try this tea. But since I bought a box of it, I wanted to try it out. I am pleased to see that there are other tastier ingredients in this tea that make this tea tastier. The ingredients that stood out to me the most were the Barley malt, Hazelnut flavor, Licorice flavor and Cinnamon Bark Oil. All of these ingredients are sweet and tasty so this made me less hesitant to try this tea out.
Main reason for purchase: The name is what truly made me purchase this. I liked that it was named as stress relief. With such a busy work day and work week, I wanted something that would help calm me or help me stay calm in tense situations. Of course, the effect is not immediate but I realized that if I were to take this product over time, I would be able to see these effects.
Taste: The smell of this one is not as lovely as the green tea blueberry one, but still it is not too strong or unpleasant of a smell. The taste of this is sort of unexplainable. It is not bitter or sweet, but it is somewhat strong but not disgusting. I liked the taste but I didn't love it. I also took this straight, with no milk or honey which I'm sure would add some sweetness to this. But I didn't find it bitter and didn't not want to add unnecessary calories to the drink so I took it straight and plain. It is enjoyable and did not leave any aftertaste as well, so I'm pretty pleased with this.
Effect: I cannot say as of yet, if this has truly calmed me down or left me with a relaxed sensation. It is too early to say. But I do feel like taking this near end of my day (again around 3 pm or so) it leaves me less anxious and on edge about the rest of my day. It helps me cool off after a long day. I also tried this once in the morning, around 9, with my breakfast, when I was having a stressful night the night before, and this did help me calm down a bit, but of course it just promoted relaxation nothing more.
Recommendation: I would recommend this to a friend or anyone wanting to try a tea out! I'm sure this will work differently for everyone so try it and see how you feel! Overall: 3.5/5 stars
The final tea I tried was the Detox one. This one was a bit tricky because as the title of the tea explains, it is a detox tea that will induce you to go to the bathroom and get rid of all the bad in your body. I was afraid to try this on a weekday, in case I had to run to the bathroom at work, I didn't want to deal with the unpleasantries at work. So I waited until the weekend to try this tea to be on the safe side.
I mainly wanted to try this again to see if it would help me use the bathroom and naturally get rid of the bad in my body and thus result in weight loss. Again this tea is supposed to aid in a diet plan again, which I am on, and I figured this would be a harm-free way to see if this could help me loose a few lbs.
Taste: There is a slightly spicy taste to this tea, and again I took it with no sweetener or honey etc. I prefer it this way because I think it has the best effect this way.
Effect: I did enjoy the tea and I believe when I continue to drink this over time I will definitely see results of more energy and cleansing of my system. Many people have also claimed that this improves their skin as well, so I would love to see that as a side effect of this!
Recommendation: I would recommend this to someone who is trying to cleanse their system and is willing to be in the bathroom for some time to take care of business. It is a mild effect, but you will see yourself in the bathroom more often and it is worth it if you want to clean your system out. Overall: 3.5-4/5 stars
SO this concludes my review on the 3 Yogi Teas. I have enjoyed experiencing and reviewing these teas. I will definitely be purchasing more of these teas, as well as more of the yogi tea varieties. They have such a nice array and I can't wait to get my hands on more of the teas to see their taste and effects! OH, also the cutest thing about buying the tea bags instead of the k-cups, is that each tea bag comes with a little inspirational quote. I love reading them and it's such a creative idea to include these on the tea bags, makes it even more enjoyable.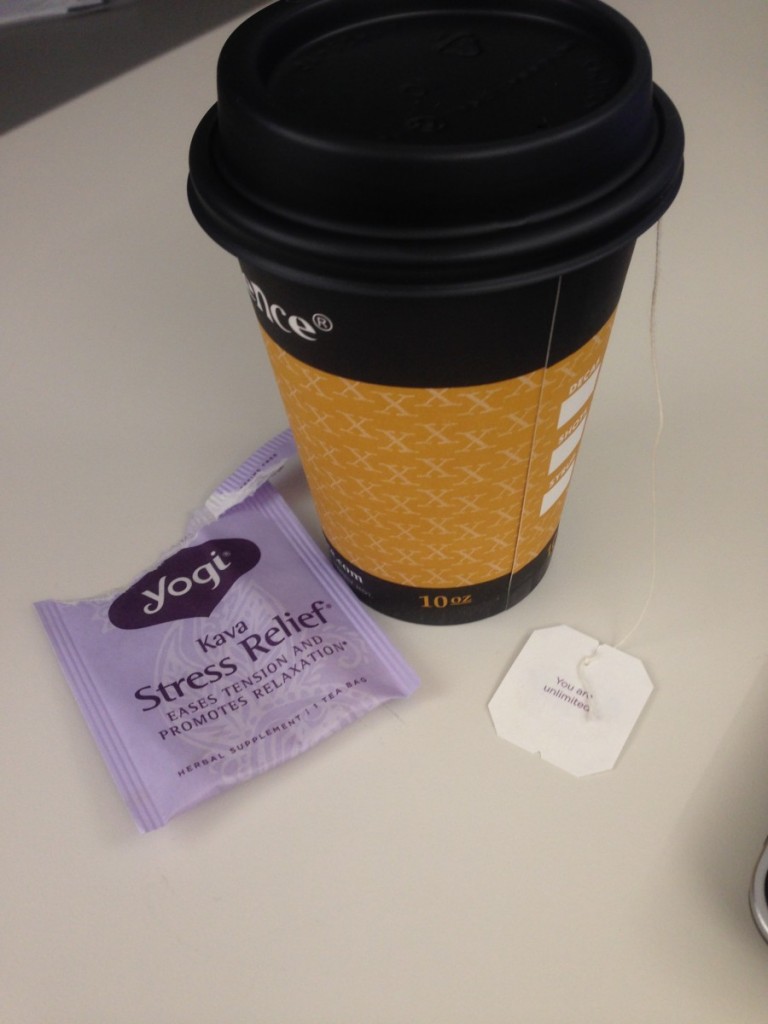 I hope you guys enjoyed this review! For more information regarding the teas, you can google and check out the main website for Yogi Tea. You can also buy these at any local grocery store, so they are convenient to purchase.
I would love your support and feedback, head over to my blog to read more from me and follow me along:
www.sprinkleofsurprise/wordpress.com
Follow me on Instagram at: www.instagram.com/sprinkleofsurprise
Facebook page is under construction at the moment, stay tuned to find out more about that!
Thank you!
Latest posts by Sprinkle Of Surprise
(see all)