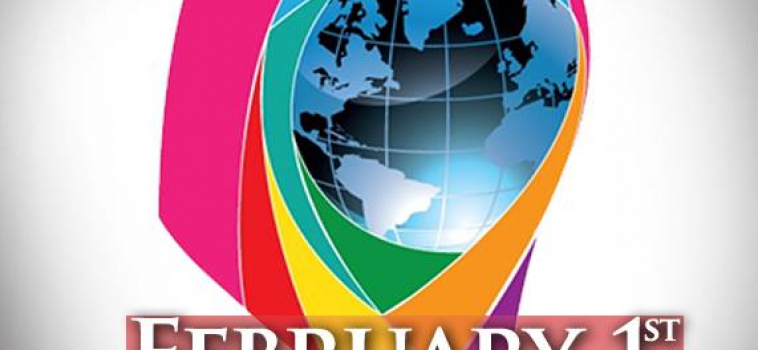 What exactly is world hijab day?
February 1st, 2013,  marked the first annual World Hijab Day in recognition of millions of Muslim women who choose to wear the hijab and live a life of modesty.

The brainchild of this movement is a New York resident, Nazma Khan, who came up with the idea as a means to foster religious tolerance and understanding by inviting women (non-Hijabi Muslims/non-Muslims) to experience the hijab for one day.

For many people, the hijab is a symbol of oppression and segregation. By opening up new pathways to understanding, Nazma hopes to counteract some of the controversies surrounding why Muslim women choose to wear the hijab.
We are joining in with World Hijab this year by asking some of the bloggers in our blogging community to share their thoughts on Hijab.
Blue Jeans and Hijab
Hijab is an act of self expression but does not speak to my entire existence. Hijab gives me strength, it makes me stand tall. People step aside. It puts up boundaries around me without me having to say anything.Hijab also makes me stick out in a crowdwhen all I really want to do is blend in. It is a feminist statement. It is a form of rebellion against sexist societal norms. At its core hijab is an act of submission.
On a Journey to Success
Ever since I started wearing the hijab I have become more happy and confident with myself whenever I am in my hijab. I am very attached with the hijab and can not do without it.
The hijab is a form of protection for the muslimah, the hijab is an obligatory art of worship from the Almighty God, it brings honor and dignity to the muslim woman.
Hijab, for me, is more than just a piece of cloth. It is an ideology that I dove into. It is not just a physical covering that I wear to conceal my body. Rather, it comes with a complete package. When I wear the hijab, I do not only feel upheld. There is a force within me that makes me a better person. It empowers me to be better. It gives me the power to have a control not just over my body, but my heart and mind, too.
I have never agreed or disagreed with World's hijab day because I have mixed feelings about the celebration of hijab that day worldwide when I feel like hijab is a daily thing for me. Now, in these times of fitnah, I think that the day is a good PR for all Muslims because it's a peaceful movement, it sends a powerful message and finally, it's a way to live modestly.
There are many reasons why someone might decide to wear the hijab, but for me I understand that the hijab is a shield/covering, it magnifies modesty and it's obedience to Allah.
Why should anyone wear hijab?
A. To obey Allah. His pleasure should be our prime concern.
By adorning it we also see following benefits:
B. Encourages us to be modest.
C. It projects our inner beauty/ intelligence. – we are appreciated beyond our looks.
D. It shield from being seen as a mere eye candy.
Hijab is much more than just few layers of clothing. It is a modest way of life. Best of the garments is garment of 'Taqwa' (Allah consciousness/piety)
O ye children of Adam! We have bestowed raiment upon you to cover your shame, as well as to be an adornment to you, But the raiment of righteousness,― that is the best. Such are among the signs of Allah, that they may receive admonition!
– Quran 7:26
Hijab to me means a submission to Allah, a willingness to do what He has ordered us to do. It is to put our faith in God. It takes courage and conviction to put it on and to leave it there. It identifies me as a believer.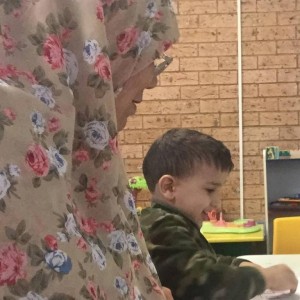 Thinkaholic Mom
Hijab is my second skin. Without it I'm incomplete. Love for certain things cannot be defined. My love for my hijab is one such thing, Alhamdulillah.
Hijab for me is the ultimate form of feminist expression! Far from it being an object of oppression as so commonly misinterpreted, it forces one to get to know the person beyond the outer covering. Judgements based on physicality are reduced, and instead it is the abilities, the humour, the intelligence, the kindness and other personality traits that are recognised and applauded. Hijab is MY choice! MY choice to obey a command from my Lord, MY choice to be recognised as one who submits. Yes, it can be hot, yes, it can be 'inconvenient', yes, its dofferent, but its me, and I love it!
Hijab for me is security. I wasn't too fond of it during my teenage but slowly it became a part of my life… I wear it for the love of Allah and Rasool saw. It makes me feel complete and respected. Hijab is being modest.
Veil by Maryam
The hijab is way more than just a piece of fabric that I wrap around my head. It's my identity. It's the first thing that makes people identify me as a Muslima. I have more control over what I decide to show, I'm not dictated by the rules sat by society when it comes to appearance. I have power over myself, I am free.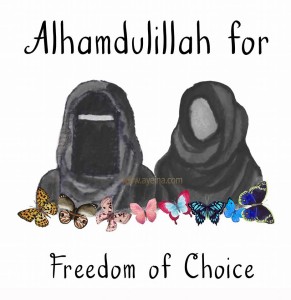 Obviously, I am not every Muslim woman's story nor am I a benchmark. But there are many like me who hang this most controversial piece of cloth on their face, unflinchingly and unapologetically. Those who aren't smothered, oppressed or chained behind that veil. It is just a part of our identity. And we are not a piece of fabric. An extra layer of clothing does not make us any better than an unveiled woman. It is just how we manage our own spirituality and connection with our Creator.
Not all of us need to be liberated by removing our coverings. Your trying to save us without truly knowing our story will cost us our freedom.
Some are enraged there even has to be anyone like us here at all. But we're here, and we're not going anywhere. We're not the only one. So we'll keep shining bright, but the blinding light of our gemstones just won't be white!
The hijab gives me a sense of privacy and protection. It gives me the barrier around my personal space and underlines the boundaries I do not want those without rights to overstep. The Hijab adds an ultimate value to what I only want to share with the most special person in my life. Someone who treats me right, of good religion and characters, and rightly deserves it. The Hijab also lets me focus more on my work rather than worry about others' perception on how I look.
Hijab is my identity. It represents who I am and what I believe in. It also shapes my personality into the positive Muslimah that I am, alhamduillah. Basically, Hijab is my life and I couldn't have imagined my life without it.
When I wear hijab, I feel very modest and free (yes free and not the opposite like some people might think). I feel extremely safe and protected from the bad things that might get in my way in this world. I feel very confident and pretty. I feel like I've gained more respect from people, especially guys whom I encounter(ed) in school, university, and work because they know that my Hijab means I'm conservative and they never cross(ed) the line with me. I feel like people concentrate more on my intellectuality and mind when I speak, instead of how I look and how my body is. I feel like a queen because Hijab is my crown.
Asalamoalikum, why i wear Hijab????there are multiple answers to it,Because
its a norm in my family,
It is to protect me from the piercing eyes of the people both men and women,
It also helps me to get rid of the dusty winds and the uv rays of the sunlight,
but the main reason and above all its to follow those pious women who remain under the veil through out their life yet made a great contribution to islam and respected by many Sahabas and the saints.
They are the ones who lead by Example.
With all the above mentioned reasons…I started to wear hijab because it is convenient and hands free unlike just a dupatta wrapped that needs constant adjusting…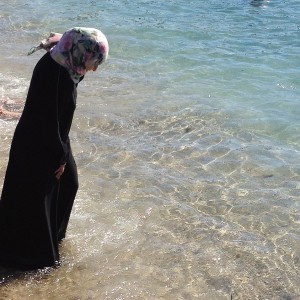 Gilded Dunya
"So don't look at the hijab as a form of restriction on women, look at the woman herself. And imagine how brave, how sincere and how convinced she is in hijab that it doesn't bother her to be odd in this society, where looks are everything. She is able to escape the expectations the world throws at women to look a certain way and instead she finds joy in doing something that aids her to be a content slave of Allah."
Before you assume…
Know that beneath the face veil is a girl
A girl who loves to talk and laugh
A girl who loves to go on adventures
A girl who study business
A girl who likes to get dolled up
A girl who wears what she wears out of her own choice
Know this before you assume…
I started wearing hijab a few years ago. I won't lie and say it has been an easy journey. After years of being without hijab and then starting it I found it difficult. To me it represents my faith and identity…and a reminder of my constant struggle of being a better Muslimah. In sha Allah.