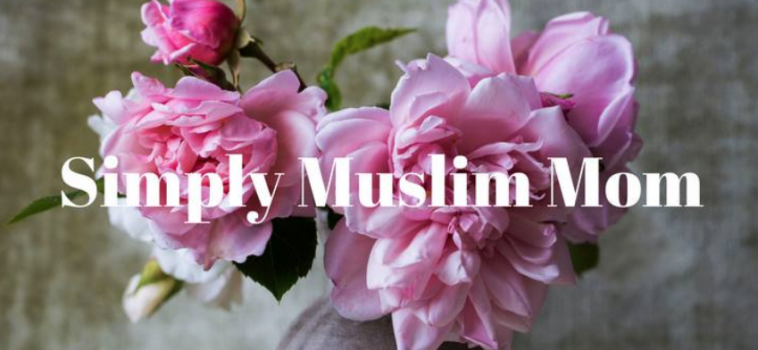 Our November featured blogger is Farhana, blogger at Simply Muslim Mom. Farhana  loves to write about simplifying the Muslim mom life. You'll find practical tips and effective, helpful ideas that will inspire you to live a more simpler and fulfilling life, inshaAllah.

WHEN AND WHY DID YOU START BLOGGING? DID ANYONE, IN PARTICULAR, INSPIRE YOU TO START BLOGGING?
I started my blog Simply Muslim Mom in 2017. We just moved to a new city in the West coast of the U.S, and I was dealing with a lot of stress. The move was hard on the family, I faced multiple health issues that stemmed from the toxic relationships that just wouldn't go away. Finding my feet while I was recuperating was the hardest thing I ever did. I didn't have any friend and I never felt so lonely in my life. That's when I realized- I can't be the only mom who's going through pain and loneliness while  trying to raise a family! So, I created this space for all the sisters who think no one's there for them, no one's listening. I want them to know that Simply Muslim Mom is the place for them to get connected where they can share their stories.
TELL US A BIT ABOUT YOUR BLOG, THE INSPIRATION BEHIND THE NAME AND HOW YOU DECIDED WHAT TO BLOG ABOUT.

The amazing Muslim moms are the inspiration behind the name. I'm a great believer in unity, and I believe that we can do wonderful things when we're working towards a mutual goal- becoming an excellent Muslim woman who can inspire the world while holding onto her faith. I decided to blog about the everyday things that we face as moms. And, that includes everything from how to heal from toxic relationships that hurt our core to finding the best lunch boxes to make your life easy. The goal remains the same- to provide practical tips for an excellent life, alhamdulillah.
WHAT'S THE MOST CHALLENGING THING ABOUT BEING A BLOGGER AND BLOGGING?

The most challenging thing about being a blogger is to get others involved to create a true sisterhood. We all want consistent, kind friendships- but it's quite the challenge to get people to connect with each other to develop that bond. Timeless friendship is only created when you show up and participate consistently- through good days and bad.
DO YOU STRUGGLE TO FIND THE TIME TO BLOG? HOW DO YOU MANAGE YOUR TIME?

As Muslim women, we change so many hats throughout the day! Finding time to pursue you goal is a struggle for each of us. I manage my time by making a list of MIT (most important tasks) that I try to finish every single day. I also monitor my time on the devices- which means not adding/ deleting apps. that waste my time.
HAVE YOU EVER FELT OVERWHELMED WITH BLOGGING?

Yes, I did, and still do from time to time. So much thoughts and so many experiences that I want to share! Filtering through them to find the beneficial ones can be overwhelming. It's also hard to not to be tempted by what's trending ( so, you can be popular), or letting go of easy ways to make money from your blog, or learning to stop comparing yourself with others who have more followers than you do, or who's life looks so perfect Instagram. It's quite a challenge to remain true to yourself.
HAVE YOU HAD ANY OPPORTUNITIES ARISE AS A RESULT OF BLOGGING?

The most rewarding result is to hear from from the sisters and brothers from all over the world who reach out to me to say that they benefited from Simply Muslim Mom. It's cathartic to know that you're not alone, and you've made a difference in another person's life. Oh, the dua'a that my readers make- makes me feel all warm and loved, alhamdulillah.
WHERE DO YOU SEE BLOGGING IN 5 YEARS? WILL YOU STILL BE DOING IT IN SHAA ALLAH?
Yes, I plan on writing, inshaAllah. I see my blog to reach out to more people so no one feels alone and lonely in their journey as a Muslim. I want everyone who's trying to hold on to the hot coal to know that they are not lonely and that they are loved at the Simply Muslim Mom. Everyone's welcome.
WHAT ARE YOUR FUTURE GOALS FOR YOUR BLOG?

My goal is to get more sister connection through Simply Muslim Mom. I will need sister participation to make this goal come true. So, if you're reading this- I'm urging you to get involved to forge real Muslim sisterhood. Yes, there will be challenges, but we can overcome anything when we choose to dare greatly, inshaAllah. So, share your stories, ask questions, offer mindful advice, reach out to another sister- everyone has a similar story just like yours.
WHAT ADVICE AND TIPS WOULD YOU GIVE TO SOMEONE WHO MAY BE THINKING OF STARTING A BLOG?
Everyone has a thought blog where they take notes of the daily life and all the things that come to their minds. Some of these notes are for others to see, some are just for the blogger herself. If you're thinking about starting a blog- just do it. It's a cliche, but it works! To be is to do.
••••••••••••••••••••••••••••••••••••••••••••••••••
JazakAllah Khair to Farhana for taking the time out to answer our questions. If you wish to connect with her further you can follow her blog Simply Muslim Mom and on follow her social media: