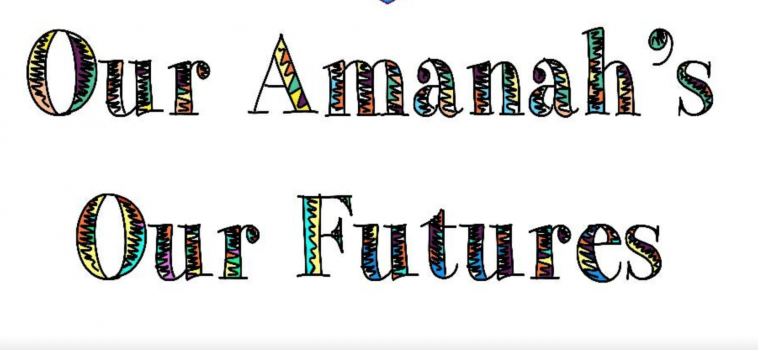 Our June 2018 featured blogger is Carla from Our Amanahs Our Future. Her blog is all about life and discussing things like, Islamic education, Montessori, Recipes, Parenting/ natural parenting, Zero waste, Cloth nappies and Hippy mama stuff in general.
**************************************
WHEN AND WHY DID YOU START BLOGGING? DID ANYONE, IN PARTICULAR, INSPIRE YOU TO START BLOGGING?
Asalamualykum, I'm Carla and my blog is called Our Amanahs Our Futures.
I started my blog approximately 10 months ago. I was totally inspired first of all by Raising Rayaans Facebook page, through that I discovered Our Muslim Homeschool and Multicultural Motherhood. All empowered Mothers with a can do attitude.
TELL  US A BIT ABOUT YOUR BLOG AND HOW YOU DECIDED WHAT TO BLOG ABOUT.
I started to use facebook to document how I taught my daughter Islamic Studies at home. I sent her to Madrassah for 2 years and was completely dissapointed. As most of the Madrassahs around here  wouldn't accept her I decided why not teach her myself at home. I'm not a teacher but I learned how to teach her to read before she was 4 so theres no reason I couldn't teach her anything else.
I also blog about looking after our Earth as I feel it is something we lack as an Ummah and an important part of Islam.
After a while I wanted to write more in depth about what we do, to help and inspire others in our situation and Facebook wasn't enough so the blog was born.
WHAT'S  THE MOST CHALLENGING THING ABOUT BEING A BLOGGER AND BLOGGING?
The thing I found most hard in the beginning was having a small amount of followers and views that don't grow. And no-one buying from my affiliate links. However I've learned not to care.
My intentions are to teach people about Islam and environmentalism.
HAVE YOU EVER FELT OVERWHELMED WITH BEING  A MOTHER AND BLOGGING ASWELL?
The only thing I find hard about blogging is that my baby loves to mess with the laptop, so I end up do most of it on my phone whilst breastfeeding.  I think I need to get organised.!
HAVE YOU HAD ANY OPPORTUNITIES ARISE AS A RESULT OF BLOGGING?
Even though the blog is quite young I've recieved some lovely things to review mainly Hijabs, Books and E-Books. In the future I look forward to recieving more opportunities and maybe monetise the blog.
WHAT ADVICE AND TIPS WOULD YOU GIVE TO SOMEONE WHO MAY BE THINKING OF STARTING A BLOG?
My best peice of advice is to join the Muslimah Bloggers Facebook group. You will learn essential advice about blogging and can ask any questions and get friendly replies. From there you will receive many opportunities and support.