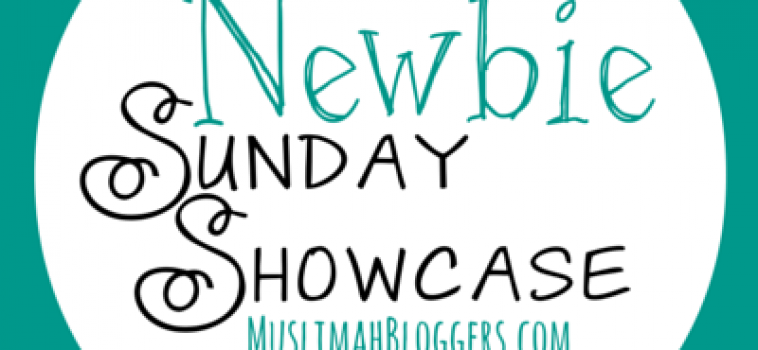 Newbie Sunday Showcase is all about introducing some of our bloggers who have blogs that are less than 1 year old!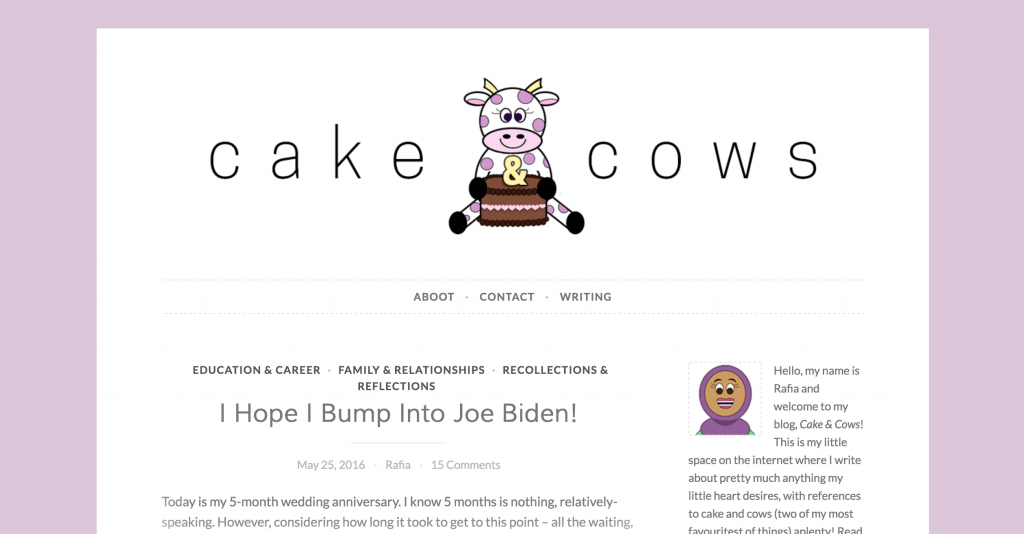 Hello, I'm Rafia, a 29-year-old Canadian-born Muslim womyn (I only spell it this way to tease my husband) of Hyderabadi-Indian origin living in The Great Land of Uhh-merica. Welcome to my blog, Cake & Cows!
"So, what is this blog aboot*, hmmm? And where are all the recipes, eh*?" you may perhaps be wondering. Contrary to what might be reasonably assumed, Cake & Cows is not a food blog. Sorry*. This is a personal blog. Meaning: I blog about my life. Ugh, I know. So why Cake & Cows then? Well, why not? I love cake (the chocolate-ier, the better!) and I love cows. But more importantly, I love alliteration.
I also love the colour purple (I'm particularly partial to lavender lately), Mickey Mouse, singing, pretty much anything made with chocolate, and Richard Simmons (he's kinda my hero). I do have some more serious interests – namely, religion, body image, and the intersection of the two.
Recently married and now living in a new and completely foreign city (I moved from Chicago to Indianapolis – I want my mommy!), I decided to take up blogging again. For the umpteenth time. I figured since I'm essentially starting a new life, why not start a new blog as well? Who doesn't love new beginnings?! The purger in me sure does!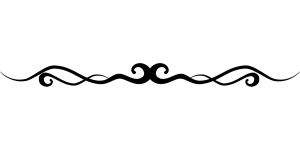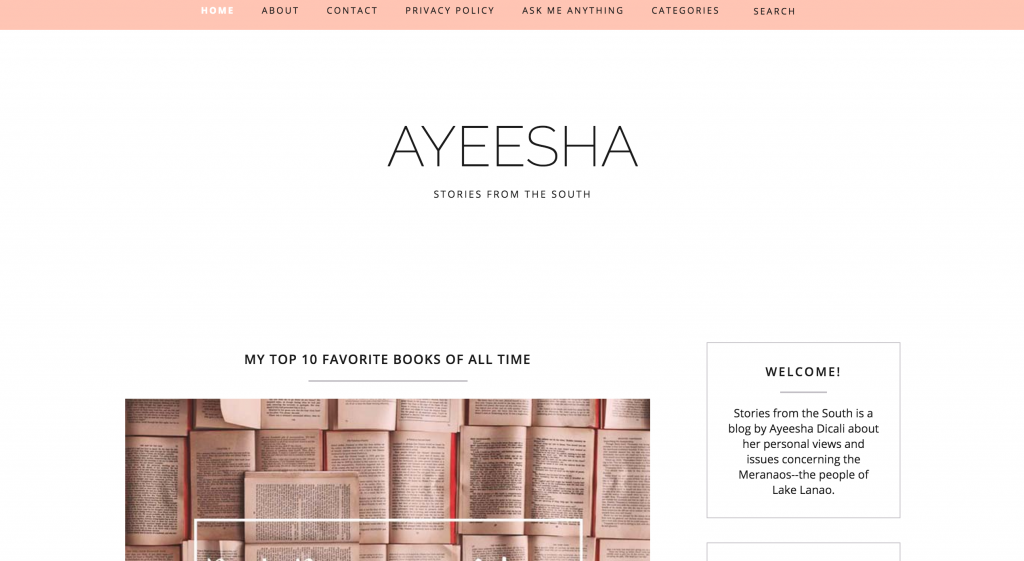 I am a Muslim lady journalist from Marawi City, Lanao del Sur. I have an innate desire to learn about the world. I read a lot, I play video games, and I cook when I have leisure time. I have varied interests that I will be sharing here whenever work permits me some time to blog.
There are so many newsworthy stories in Lanao del Sur that never get picked up by the media–our struggles, our politics, our colorful culture, stories of violence, stories of triumph and stories that make ripples in our daily lives. Although there are a few media practitioners in the region, they are not enough to bring the story to the limelight. Some of them are government-employed broadcasters who cover mainly developmental stories. Small private media on the other hand rely heavily on patrons. They only publish paid news. Thus, we have a gaping hole in the media practice in Lanao.
"The central purpose of journalism is to provide citizens with accurate and reliable information they need to function in a free society." –Committee of Concerned Journalists
I am currently a freelance journalist who mainly cover news for TV broadcast. I am deeply involved with my community, have extensive knowledge of the local culture, and an advocate of peace especially in Mindanao. I wish to hone my craft and grow professionally as a journalist and as an advocate.
Part of the storytelling agenda is the writing of more personal articles to shed another layer of light to the Meranao narrative. Thus, this website is not just for hard news, but also for more personal doodles of everyday life as a woman, a Lanao native, and as a budding journalist.
If you have a blog that is less than 1 year old then please ensure you are on ourdirectory and drop us a mail to say you would like to be featured