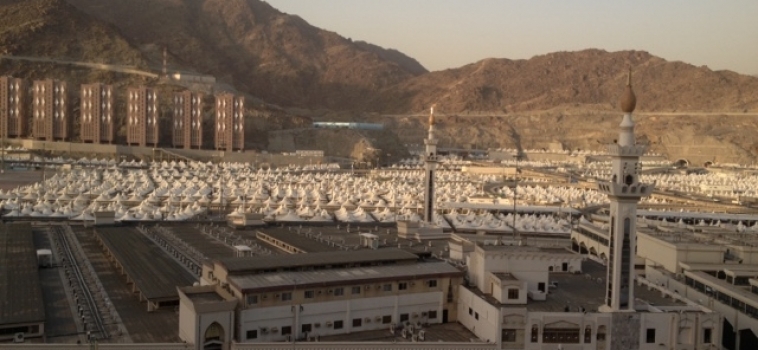 Blog Post by: A Muslimah's World.
You may think this reflection will begin from when I got on the plane to begin my pilgrimage, the journey of a life time. Well you're wrong. This journey did not start on 17/09/15 but started the day I was born.
I was born a Muslim and one of the pillars of Islam is to complete hajj. My real desire to complete this sacred act actually came in 2012, this is the year I chose to wear my hijab. 2012 was a special year for me where I learnt a lot and was a life changing year for me in various ways. I became closer to my Lord. A close friend of mine went to do hajj this year too, so I watched a tv show on Islam Channel called 'footsteps of Ibrahim' every day just to see what actually happened when people went to do hajj. Alhumdulillah I am so glad I watched this show. I watched every day and my heart yearned to go to Makkah and Madinah just by hearing the pilgrims talk about their journey thus far. I then spoke to my family and with a little persuasion my dad agreed to arrange a trip to complete umrah.
April 2013- When my heart skipped a beat
Alhumdulillah (All praise be to Allah) we went for our umrah trip! Mum, dad, me and my brother. I was SO happy, as it took a few months persuasion to get dad on board but we got there and it was beautiful and a life changing experience. Getting on that plane, hearing the pilgrims chant labaik- it sent shivers down my spine (in a good way). The first sight of kabah, the amazing feeling of being there with my family, it was truly a wonderful experience. I used to dream of seeing the kabah and now I was finally here, Allah invited me and I was so grateful for this experience. As cliched as it sounds, when you see the kabah, your heart really does skip a beat.
This experience made me realise I needed to come back, in fact I didn't want to leave the place. But one thing I knew for sure was this is where my heart and soul felt at ease and this is where I belonged! I was SO coming back here.
The rest of 2013,2014 and beginning of 2015 I kept badgering my dad about hajj and saying we needed to go and that now was the perfect time. My dad wasn't so sure and didn't feel 100% ready but every now and again I would keep raising it and saying we really do need to go. I prayed and made dua for Allah swt to allow us this honour of going to do hajj. 2014 flew by and there was still no solid plan of hajj. I was sad and disappointed by this but didn't give up. At the end of 2014 I again insisted to my dad that we must go and kept pushing, he was warming to the idea.
2015- Perseverance and prayer
My dua to Allah was consistent on this matter (going to do hajj) and I prayed every day for the invite to come from Allah. I spoke to my dad some more and he agreed that yes we would make arrangements to go, we didn't research much till about March, and I was beginning to worry that we may miss out again this year. However in May we spoke to my amazing Uncle who referred us to a group he knew that arranged trips and finally we were getting closer. Just before Ramadhan I began to push dad to make arrangements to pay deposits etc and we finally got there (at this point I still felt it could go either way) but I kept praying for it. The intention was there, the longing for hajj was there all we needed now was for Allah to accept this intention and alhumdulillah after Ramadhan this was done and it was all paid for.
Everyone kept telling me I was so lucky to be going but it wasn't sinking in for me, I guess when you want something so badly and it finally happens it becomes hard to believe. The day it hit me I was going was actually the day of my hajj seminar when the shaykh leading it said how honoured he felt to be in the company of the guests of Allah. This one sentence touched my heart and bought a tear to my eyes. It was happening, a dream was about to come true and a prayer was about to be answered.
September 2015- A dream came true, a prayer was answered.
The dream had come true. The shopping and prep was all done and everyone was at my house visiting me and my family, wishing us well and asking us to pray for them. This was happening and I felt a little numb, a little afraid but very excited. It was a whirlwind. Before we set off to travel I went to see two of the most precious people in my life- my grandparents. My grandfather had been extremely unwell so this was a very testing time for us all, this goodbye was particularly emotional and tear filled. Luckily he had come home from hospital just before we left for hajj so it was good to leave knowing he was on his way to recovery. I gave them both a heartfelt hug, and we set off. My uncle and brother dropped us off, I was really sad to be leaving my brother behind and knew I would miss him and felt sad he couldn't experience this with us- but it wasn't his time right now and in sha Allah I hope it comes for him very soon. Before embarking on this journey, I sent a message to my family highlighting why I loved them all and what they meant to me, who knew if I would ever get this opportunity again….so it had to be said. Emotions were at a high and the journey began.