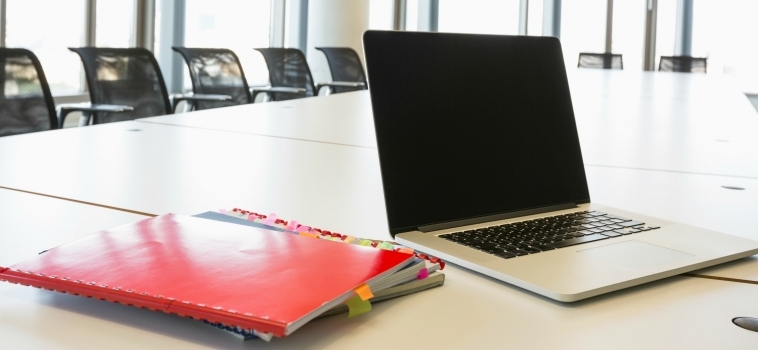 January is 'Get Organised' month and we thought we would use this opportunity to ask our bloggers how they are getting organised in regards to their blogging and share their tips.

Utilise the time after Fajr. Studying, reciting Qur'an or any creative work like art/writing/reading etc. needs to be done first thing in the morning. Creative work before reactive work (like answering emails, messages etc.).
I can't stop raving about the time after Fajr – something that is full of barakah and the time when your children are asleep (sometimes they're not, but it's still a beautiful time to start your day).
You'll notice that the thing you've been spending hours on at night, gets done in a few minutes in the early mornings. That's how the barakah of the early morning is!
I've always noticed how early morning learning not only stays with you for a long long time, but your fresh morning brain understands things better than your used-up night brain.
So best tip for organisation would be to use that time as effectively as possible.

Break down your big goals and projects into smaller actionable steps. Then choose a deadline that you want to have something completed by and share that date with someone. Having someone to be accountable increases the likelihood of you completing the project. Once you have your deadline finalized, work backwards from that date and split up your actionable tasks.
Nazima Qureshi, Registered Dietitian Nutritionist and blogger.

Organize your tasks with a daily planner/diary. By writing tasks down each morning, your mind is much more calmner, composed as opposed to running around with 11 tasks weighing on your mind. It's feel so much better to start your day with a focused mind and visually see the tasks in front of you that need to be completed and feel in control rather than feeling controlled and overwhelmed by the number of tasks that need to be done.

I've always been a fan of pen and paper to do lists, checklists, planners, schedules and all of that, but the thing that has helped me get organised the most has been starting to use the bullet journal system. It is basically a totally customisable notebook that you include yearly, monthly, weekly, and daily plans, to dos and goals, as well as any other notes, financial trackers, fitness trackers, or basically anything you need to keep track of and have on hand for later!
I love this because not only am I writing everything down and being able to actually see my goals and steps to achieve them, but also because everything important to me is all stored in one notebook-I don't have to go rifling through old notebooks, computer files, sticky notes and everything else to find a note I wrote down last month, I can look in my index and know exactly where it is!
So I guess my big take away tip is even if you don't want to bullet journal, write down your tasks and goals to get them out of your head and onto paper, and keep all of your important notes and files organised in one place for easy and quick reference.

CONSISTENCY WiTH BLOGGING ACTIVITIES
Blogging and all the activities around it can get overwhelming. So doing little things but with consistency adds up in the long run. It is a part of the Sunnah and rewarding in a lot of ways.
As they say, practice makes perfect.
So, rather than doing too much in one week and nothing for the next one month. It's better to pace out things, schedule where possible and get help when necessary. It helps feel more organised and less overwhelmed/ scatterbrained.
With a certain level of consistency in place, it's easy to create a flexible creative routine that is in sync with everyday life/ activities.
For example, I aim to publish a post per week. Send out at least an email to my subscriber list each week. And do some social media interaction each week although I still lag very much behind in that area.
I also check and respond to emails regularly.
The most important thing about staying organised is knowing what I want to achieve, keep trying even when I fail to hit my target perfectly and just keep showing up and following up with the right intention, attitude and du'a to get those things done on or close to schedule.
Amina Edota  – Chief Mentor at Youthly Hub  

I use apps like Evernote that sync to all my devices to keep to do lists. That why if I'm on the move, commuting or have a burst of inspiration in the middle of the night I can quickly add it to my list. I also celebrate even the tiniest of achievements. That way I stay motivated and feel good about meeting all my targets, even the little ones.

1.Track your blogging activity on a monthly planner – Remember to allocate days for editing , posting , social media etc. I find that this allows me to breakdown my blogging tasks into bite sizes and it helps me to have a visual mapping.
2. Create Themes – This is a great way to overcome bloggers block. Keep a list of words related to your theme and create sub categories. You could use it as trigger words for a blog posts.
3. Carry a notepad – That's right when the blogging light bulb strikes you must be prepared! I use the notes app on my phone for those eureka moments!
Rabia

To organise my posts for 2017, I began by scheduling in content around important dates – Ramadan, Eid, kids milestones, and other time/date sensitive content. I used a diary for this that I picked up at Poundland so I can cross things off, erase, and move things around to my hearts' content without having to worry about how much I spent on a planner or having it look pretty.
My blog content covers four themes and each theme is given a different colour. When I schedule content for the month, I am able to look at it at a glance to tell whether the content is balanced or if there are too many posts surrounding one theme and less of another.
Whilst I try to organise things, I am also keen to not overwhelm myself with it all, so I will often photograph for posts on a day with good lighting and edit them when I can so that the bulk of the 'work' which for me is the photography and featured images – are ready and waiting for the text to accompany them.
I also use the dictation function on my phone to note ideas down or write parts of a post whilst I'm driving – for some reason that seems to be the time when I can think through things the most!
Iman, And then she said

True success cannot even be considered if intention isn't purified. Path cannot be made easy if Dua isn't made to the one who Controls all our matters. Goals can't be met if the necessary steps are not planned and laid out. So I adopted IDA (read as i-de-a) my abbreviation for 3 key words, to plan and be organized: Intention, Dua and Action. All my IDA's get passionately written down in my Bullet Journal. Why? Because a goal without a plan is just a wish. My Bullet Journal has pages dedicated to my long term and short term plans for my blogs, and my other social media engagements, besides everything else I do in a day. It has truly become my, "Best inanimate companion".
Umm Umamah