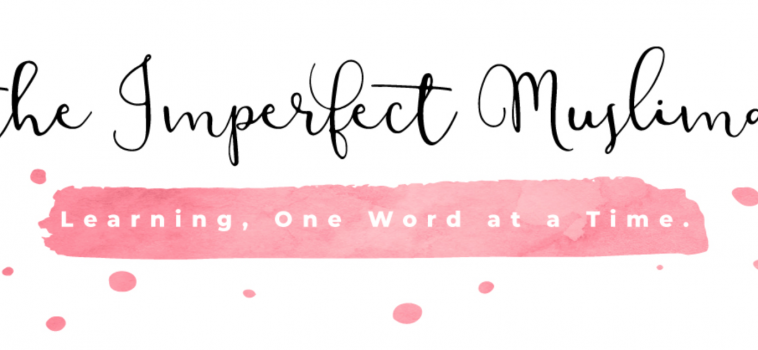 Our April 2018 featured blogger is Neymat Raboobee from The Imperfect Muslimah. The tagline of her blog is is Learning, One Word at a Time and that's really what she is trying to do – learn how to be a better her, through writing and reflecting.

WHEN AND WHY DID YOU START BLOGGING? DID ANYONE, IN PARTICULAR, INSPIRE YOU TO START BLOGGING?
My blogging story is a bit convoluted, to tell the truth. I started a blog – sort of – when I was fourteen or fifteen and I posted exactly once before proceeding to never touch that blog again. It may even still be out there but I've completely forgotten not only the name but also the login details. I tried again on the 3rd of April 2017. That was when I came up with The Imperfect Muslimah – and in the bath, to boot. I've always been a perfectionist but not the type that's portrayed in movies and on TV. I'm the dark side of perfectionism, the part where you beat yourself up for being imperfect despite knowing that to be human is to err and to be flawed. 
One day, I got tired of it. I was lying in the bath and berating myself over the flaws in my Islam and it finally clicked that I was never going to hit perfection. And that was okay. I'd been struggling with writing for a long time but for the first time in around a year, I felt this powerful urge to write and record that thought process so I could share it. And so, The Imperfect Muslimah was born.
It's gone through a ton of changes since inception – and I, for one, think it's better. But that was how it began.
TELL US A BIT ABOUT YOUR BLOG. THE INSPIRATION BEHIND THE NAME AND HOW YOU DECIDED WHAT TO BLOG ABOUT.

Okay so The Imperfect Muslimah came from me wanting to take back imperfection for myself and use it as something other than the insult it had become in my head. I started out using my blog as almost a diary but with a look toward sharing experiences and life lessons that I'd learned as a result of those experiences through reflecting on them and myself. The blog evolved quite quickly to include book and other product reviews and then finally fiction that I write. As you might be able to see, it was very organic and haphazard. Every time I found myself wanting to share some new kind of thing online, The Imperfect Muslimah went through a change so that it could accommodate that.
My thought process when it comes to what to blog about is basically me asking myself a question – Do I think that sharing my views on this will be beneficial to readers? If the answer is yes, I have a new blog post to write.
 Right now, I review perhaps two or three books a month and write reflective posts weekly. I also release new fiction chapters daily.
WHAT'S THE MOST CHALLENGING THING ABOUT BEING A BLOGGER AND BLOGGING?

There are a couple of things. Time management, self doubt, lack of inspiration. I've had to deal with all of those things at one time or another. But the cure to all of those things – for me, at least – is just to write. Even if what I end up writing ends up mostly in the garbage because it's rushed or I can't see the good in it, starting to write anything at all will eventually result in something good.
DO YOU EVER GET OVERWHELMED AND STRUGGLE TO FIND THE TIME TO BLOG? HOW DO YOU OVERCOME THIS?

 I definitely do get overwhelmed. I'm studying towards my bachelor's degree at the moment along with working part time, volunteering and writing my fourth manuscript while finishing polishing manuscripts two and three and readying them to publish In Shaa Allah. So, I'm juggling a lot. Added to that is the fact that I'm quite haphazard which I think you all will have picked up on already. I tend to prefer having a cache of posts that I can schedule when I'm in a phase where I have some down time because it's much easier for me than being able to consistently carve out time to blog in the week. I also have a notebook dedicated to ideas for posts which I keep on me at all times in case inspiration hits.
I do want to get to a point where my schedule is well balanced enough that I can devote specific times to everything every week rather than focusing solely on a single thing for an extended period of time but I also recognize my own limitations and work within them to make things easier on myself. I think that's incredibly important – recognizing that a way of doing things is less than ideal but giving yourself enough time to change and improve without putting undue pressure on yourself.
Also, I find that stressing over every single deadline when it comes to my own blog is counterproductive. I will, of course, keep to deadlines when collaborating but I find myself to be a lot more productive when I allow myself wiggle room.
HAVE YOU HAD ANY OPPORTUNITIES ARISE AS A RESULT OF BLOGGING?

 Yes, Alhamdulilah! I've been sent things to review and I've also been offered a small part time position running the social media of a business.
WHERE DO YOU SEE BLOGGING IN 5 YEARS? WILL YOU STILL BE DOING IT IN SHAA ALLAH?

 I think that blogging will still be going strong In Shaa Allah. I'm of the opinion that people enjoy the personal aspect of reading what a blogger has to say and I don't think that that's something that will wear off any time soon. I love running The Imperfect Muslimah so much that I can't see myself giving it up. In Shaa Allah, it will still be live and I will still be producing content that interests people.
WHAT ARE YOUR FUTURE GOALS FOR YOUR BLOG?

The first thing that comes to mind is branching out into audio which I have actually already begun. I'm still trying to figure out all the details for doing an actual podcast though.
I'd also love to do some collaborating in the near future In Shaa Allah.
WHAT ADVICE AND TIPS WOULD YOU GIVE TO SOMEONE WHO MAY BE THINKING OF STARTING A BLOG?
Don't hold yourself because because you're unsure. It is always possible to change and go in a new direction – in fact, it's healthy. You don't have to have everything perfectly worked out before you begin. Blogging, like many other things, is a process  that will teach you as you go along. You will learn from experience and from interacting with your audience and other bloggers. But you must take the first step. Without making a star, you have no way to move forward.
DO YOU ADVOCATE WRITING UNDER A PSEUDONYM?
This is a question that I get asked very often and I think it's something that needs to be considered from all angles on an individual basis. There are pros and cons to writing under a pseudonym. Writing this way allows you to control how much of yourself is revealed to the world in a way that isn't possible when your blog is associated with your name. Many people choose to write under a pseudonym because that's what allows them peace of mind and the ability to express themselves freely without dealing with backlash from offline sources. The most important thing to consider, I think, is what will make your blogging easier for you? If that's writing under a pseudonym – or anything else – go ahead!
JazakAllah Khair to Neymat for taking the time out to answer our questions. If you wish to connect with her further you can do so via:
Blog – https://theimperfectmuslimah.com/
Instagram – https://www.instagram.com/the_imperfect_muslimah/
Facebook – https://web.facebook.com/theimperfectmuslimah/
Twitter – https://twitter.com/theimperfectmu1
Pinterest – https://www.pinterest.com/theimperfectmuslimah/