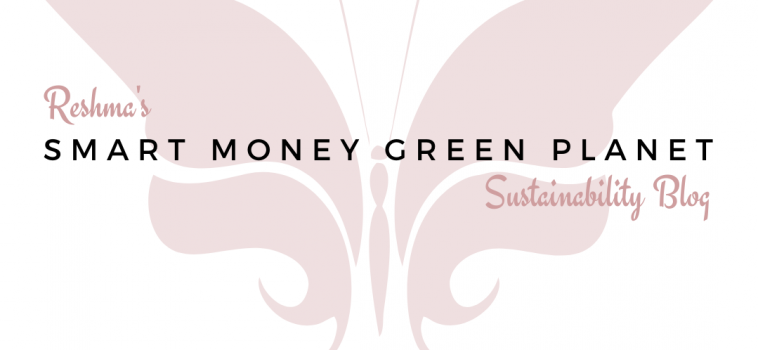 This month's featured blogger is Reshma from Smart Money Green Planet. Reshma works full time in the environmental sector and she started blogging out of her passion to achieve an eco-friendly, green and natural lifestyle. Her passion revolves around making small changes in the home and garden to enhance a greener lifestyle.  

WHEN AND WHY DID YOU START BLOGGING? DID ANYONE, IN PARTICULAR, INSPIRE YOU TO START BLOGGING?
I started Smart Money Green Planet in 2018. At the time, I published posts without much thought. My writing and topics were sporadic until recently. It was in 2020 that I took blogging seriously and started to dedicate more time to it.
I was inspired to set up Smart Money Green Planet, as a sustainable lifestyle blog, after I watched the documentary, the Blue Planet. The documentary highlighted how our consumption habits were destroying the planet.
TELL US A BIT ABOUT YOUR BLOG, THE INSPIRATION BEHIND THE NAME AND HOW YOU DECIDED WHAT TO BLOG ABOUT.
My blog is a platform where I express my creative self, whilst raising awareness about how we can make small changes in our everyday lives to protect the planet.
The way I see it, we cannot change everything in our lives, but we can make small changes that will lead to a better us and a healthier planet. I write about how to plant flowers, create a vegetable garden, make homemade natural skincare products and design a minimalist style home. All of these small changes will collectively contribute towards a healthier environment and better the lives of people locally, as well as, globally.
With regards to the name, it took me a while to settle with Smart Money Green Planet. In the end, I picked the combination because I wanted it to represent how saving the planet is also how we can save money in the long run.
WHAT'S THE MOST CHALLENGING THING ABOUT BEING A BLOGGER AND BLOGGING?
Believing that your words are making a difference. I blog about a sustainable lifestyle because I am passion about protecting the planet for my children. I hope that my words inspire mums now and in the future to do the same.
DO YOU STRUGGLE TO FIND THE TIME TO BLOG? HOW DO YOU MANAGE YOUR TIME?
I work full time as an environmental specialist and I have school-aged children. Therefore, my current blogging time is limited. Recently though, I have committed to dedicating Sunday mornings to writing an article with the aim of publishing at least one post a week. Having consistency in posting times has meant that I have more readers visiting the site now than before.
HAVE YOU EVER FELT OVERWHELMED WITH BLOGGING?
All the time. Blogging is not as easy as it sounds, especially if you have a full time job. It takes a long time to write and publish a post. It takes even more time to get people to your site. However, I am passionate about my niche, which is promoting a sustainable lifestyle. This helps me overcome the tiredness I sometimes feel from blogging. Regardless of the hardship, you will enjoy blogging as long as you love what you are doing.
HAVE YOU HAD ANY OPPORTUNITIES ARISE AS A RESULT OF BLOGGING?
I am keen to partner up on sustainability related projects such as planting trees, cleaning up river beds, providing access to education, health and clean water projects.
Last year I had the opportunity to work with a NGO based in Rwanda to raise funds for education and health programs. The funds raised paid for sanitary period products and writing accessories for children, especially girls attending school. On a side note, a quick thank you to my amazing circle of friends who were instrumental in making the event a success.
In the future, I would like to collaborate with likeminded businesses to promote a sustainable lifestyle and with NGOs to deliver environmental programs.
WHERE DO YOU SEE BLOGGING IN 5 YEARS? WILL YOU STILL BE DOING IT IN SHAA ALLAH? WHAT ARE YOUR FUTURE GOALS FOR YOUR BLOG?
Inshallah, I want to continue growing Smart Money Green Planet. I hope my site raises awareness about the environment and inspires others to take on a sustainable lifestyle; even if it is something as little as planting flowers or donating to sustainability related programs.
Such small gestures promote biodiversity, clean up the air, reduce waste and even help people living in some of the poorest regions of the world.
WHAT ADVICE AND TIPS WOULD YOU GIVE TO SOMEONE WHO MAY BE THINKING OF STARTING A BLOG?

1. Take some time to research your niche. In the beginning, your blog and ideas will keep evolving until you are happy with your path. Then it is a matter of slowly building the blog.
2. Do not worry about numbers and traffic. Just remember, every blogger started at the bottom. Their passion and commitment has driven them to the top.
3. Join online communities such as Muslimah bloggers to get yourself and your blog name noticed.
4. If you are passionate about your topic, you will love blogging.
---
JazakAllah Khair to sister Reshma for taking part and answering our questions. If you would like to connect with her further she can be reached on social media via: