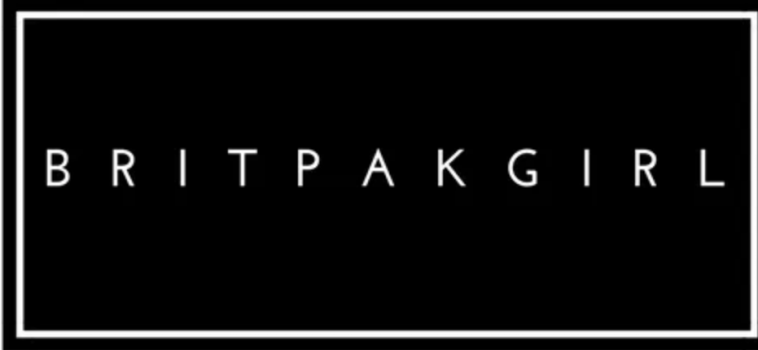 Our March featured blogger is Sharmeen, blogger at Britpakgirl. Sharmeen is a mum, wrangling 3 children, a husband, a cat and a rabbit in the wilds of Surrey. She writes about the British Muslim experience.
WHEN AND WHY DID YOU START BLOGGING? DID ANYONE, IN PARTICULAR, INSPIRE YOU TO START BLOGGING?
I started blogging as I wanted to gain writing experience. I wanted to become a journalist so having a blog seemed the best way to 'practise' writing. When i started blogging I didn't know any other bloggers so nobody inspired me to start as it was kind of unheard of. We're talking about eight years ago!
TELL US A BIT ABOUT YOUR BLOG. THE INSPIRATION BEHIND THE NAME AND HOW YOU DECIDED WHAT TO BLOG ABOUT.
I've gone through a few blogs and currently am trying to revive an old blog which is politics based -more about that another time! Britpakgirl is all about the British Muslim Experience, and about doing all the things I love. Mainly eating out, travelling, days out with the family, and fun activities. But everything is targeted at a Muslim audience so I only review halal things and those I think will cater to British Muslims. I've tried to add new features such as available prayer rooms in the area etc to make it a useful blog post. I am also doing the Muslim Biz series, which involves highlighting a Muslim entrepreneur/business monthly.
The name is one thing I grapple with quite a lot.  A non-Muslim blogger friend thought Britpakgirl sounded brilliant…after I changed it, some of muslim friends told me they didn't really like it. But I'd paid for the changes so it's here to stay, for now!
WHAT'S THE MOST CHALLENGING THING ABOUT BEING A BLOGGER AND BLOGGING?
The most challenging thing is trying to promote your posts through social media in order to gain traffic. I find this THE most irritating thing and I end up spending too much time on social media as a result. The other annoying thing is SEO and photo editing. Back when I started blogging it was just about writing and clicking 'publish'. Now writing is only 25% of blogging. Everything else takes up the rest of the time which really bugs me.
DO YOU STRUGGLE TO FIND THE TIME TO BLOG? HOW DO YOU MANAGE YOUR TIME?
Yes I do. Time management is not something I'm very good it. I don't manage it well, that is the truth! I try and set aside a few hours a week on a particular day. But recently I've been slacking because life can get really busy with three children and family commitments. I've recently joined a gym so am spending a lot of time keeping fit which I'm loving.
HAS BLOGGING EVER LEFT YOU FEELING OVERWHELMED?
Yes lots of times, especially when your to-do list grows longer and longer. But lists are my way of getting things done slowly. I make lists of everything and can only function by ticking them off one by one. The things to do as a blogger never end. There's never enough engagement or networking you could do, there's never really enough writing you could do. It's important to be realistic and set goals that are achievable rather than trying to master everything in one go.
HAVE YOU HAD ANY OPPORTUNITIES ARISE AS A RESULT OF BLOGGING?
Absolutely. I've had success being published writing journalistic pieces, as my blog has acted as a portfolio. I've been on a few press trips as a result and met some amazing people in the process who have helped me in different ways.
WHERE DO YOU SEE BLOGGING IN 5 YEARS? WILL YOU STILL BE DOING IT IN SHAA ALLAH?
In my honest opinion I'm not sure blogs will survive the current impatient online appetite that we have. People are happy to read social media posts more than long form prose on a website. Not everyone of course but certainly the younger generation. Videos seems to be doing very well and I think vlogging will trump blogging if it hasn't already. I know not everyone will agree with me on this one. I probably will still be blogging but maybe about different subjects. Let's see where the wind takes me!
WHAT ARE YOUR FUTURE GOALS FOR YOUR BLOG?
I'm going through a process of re-evaluation right now so totally not sure. My main goal is always to increase readership and then make it the go-to blog when Muslims in London want to do something fun or go somewhere different to eat.
WHAT ADVICE AND TIPS WOULD YOU GIVE TO SOMEONE WHO MAY BE THINKING OF STARTING A BLOG?
I would advise new bloggers to do it for yourself and not to have the aim of making money. Make sure you write about something you are really passionate about . Also don't get caught up in the numbers game as social media can be a disheartening place at times.
 **********************************
JazakAllah Khair to Sharmeen for taking the time out to answer our questions. If you wish to connect with her further you can follow her blog
 Britpakgirl
and find her on social media:Â 
Facebook,
and 
Instagram.