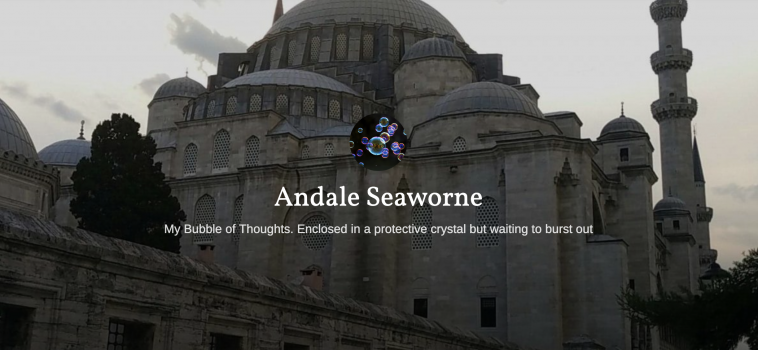 Our July featured blogger is Andale, blogger at Andale Seaworne. Andale is a regular 20 year old Muslim Pakistani girl navigating through life, sharing knowledge and opinion related to different topics in life from basic moral values with relevance to Islamic teachings to travelling, books, food, personal experiences, observations, interpretations and anything that comes to her mind. Someone who appreciates constructive criticism and ideas in an attempt to better herself as a blogger and as a human being living in Allah's beautiful earth.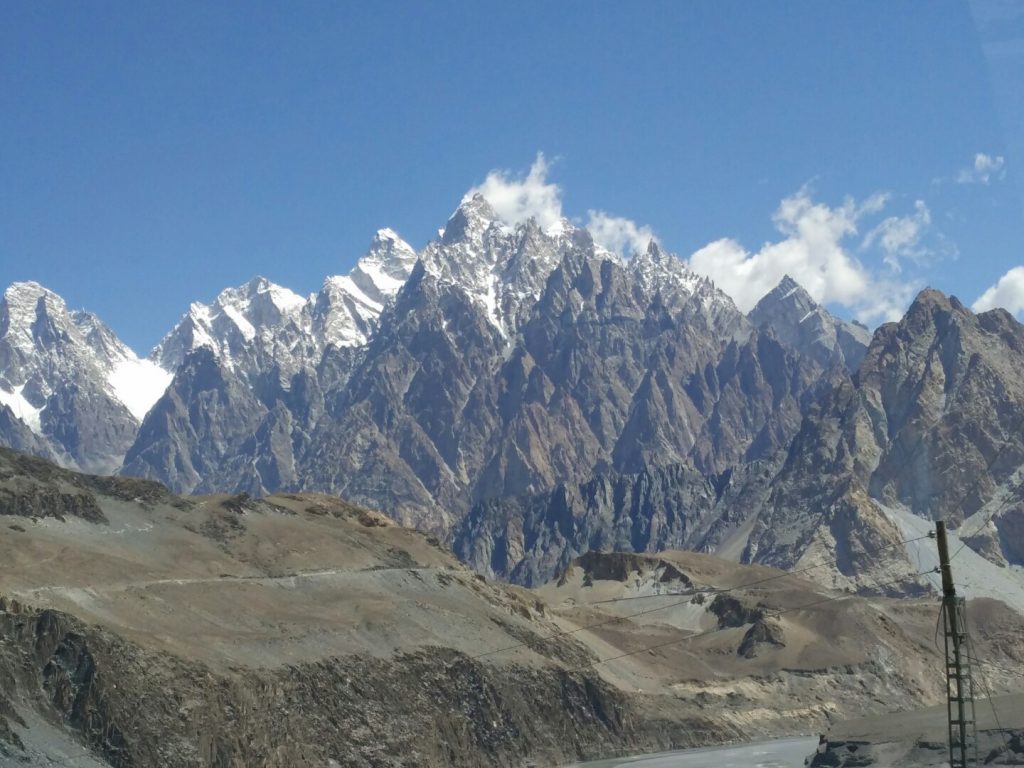 WHEN AND WHY DID YOU START BLOGGING? DID ANYONE, IN PARTICULAR, INSPIRE YOU TO START BLOGGING?
I love reading novels. I love how the authors immerse you deep into their world that you feel every emotion that the characters experience, how their story tends to become yours and by the end of the story, you have learnt something so profound and so new that you're not the same person you were before reading it. I wanted to be like that. I wanted to say words and express my views so perfectly that it would have an impact. I didn't believe I'd have that power ever.
Then, three years ago during my English class at academy, our teacher had checked all our descriptive writing work. She complimented me on my writing in front of everyone; I was so shocked. She was so enchanted by it that she read it in front of the whole class. As she was reading it, I took in her every emotion. I saw how my words were taking her on a journey in the world I created and it was amazing. At the end of it, everyone clapped and afterwards, she encouraged me to write. At that moment, I realized that I do have an impact. I can share things that are meaningful.
However, I didn't start blogging then. I started it a year later when I remembered that day in English and I had a lot to say but I wasn't confident enough to say it out in the open and I thought, "That's it. Just go for it." And here I am.
TELL US A BIT ABOUT YOUR BLOG, THE INSPIRATION BEHIND THE NAME AND HOW YOU DECIDED WHAT TO BLOG ABOUT.
I had a name already ready for it during my 'Dear Diary..,' years; Andale Seaworne. This is a made-up name I came up with as my Teen Pop Sensation/secret name, like Hannah Montana for Miley Stewart. No one knew Miley was Hannah so similarly, no one knows I am Andale.
My blog is my Crystal Abode or my Bubble of Thoughts enclosed in crystal, because I am not the kind of person who's the center of attention, who expresses everything that's on her mind to everyone or who can deliver a speech in front of an audience easily. I'm running my blog anonymously for a reason. Thus, my special crystalline thoughts are expressed in the comfort of my home: my blog. Whether they are special or not, that's for you to decide.
What I decided to blog about 2 years ago came naturally. My intention was/is to spread awareness of the true essence of Islam and what it's like to be a Muslim while also letting non-Muslims who come across my blog to know that Muslims can have a normal life like you by sharing my life experiences; but whether one focuses on my faith or not, it's a blog for anyone to read because I also write about art, travelling, books, food, personal experiences, observations, interpretations and anything that comes to my mind..
WHAT'S THE MOST CHALLENGING THING ABOUT BEING A BLOGGER AND BLOGGING?
The most challenging thing for me is to understand what the reader expects or wants to read. As I have so much to say, my blog shows it. I have to tendency to write really long posts where I am brutally honest and vent my heart out. I'm literally serving a slice of myself to the world but not a lot of people read the post, perhaps because it's too long, which is disappointing for me. I try my best to keep my blogs small and concise but it often feels an injustice to me. I've tried writing poetry only for the reason that it's short so people can read it; but I can't write heavy words like in poetry. I need the reader to know what's exactly going on in my mind.
DO YOU STRUGGLE TO FIND THE TIME TO BLOG? HOW DO YOU MANAGE YOUR TIME?
Being a medical student, I barely have enough time on weekdays to focus on my blog. I come back from college at around 4pm after which I have to prepare for the next day, during which I tend to fall asleep on the couch before my preparation is complete. I manage my time by brainstorming what I write on weekdays and write on the weekends. I'm usually writing about my life or life in general so I'm surrounding by ideas and inspiration every day. In addition, I'm participating in Project 365 where I post a picture of everyday for the whole year so that ensures that I post something on my blog every week.
HAVE YOU EVER FELT OVERWHELMED WITH BLOGGING?
I don't recall feeling overwhelmed, but I get worried and disappointed sometimes if my blog isn't reaching out to enough people or it's not having the visible impact on people that I want in spite of all the effort I put in it; while other blogs do so much better. I have started promoting my blog nowadays so hopefully there will be improvement.
HAVE YOU HAD ANY OPPORTUNITIES ARISE AS A RESULT OF BLOGGING?
Due to my interest in blogging and interest in reading other people's blogs, I joined some groups, i.e Muslimah Bloggers, Project 365 and PBWRP (a group for Pakistani writers, as I am a Pakistani), and I've come across so many amazing writers, poets and bloggers that I never came across or paid attention to years ago. Their work was so inspiring and it allowed me to learn what it was about their work that gives you the 'WOW' factor. In a world where people are fascinated by celebrities or influencers that are not empowering or encouraging one's positivity, I saw a new world open up to me and I'm grateful to be a part of it.
As for business related opportunities, I've tried reaching out to a page that's promoting tourism in Pakistan to ask if I can help them. Otherwise, I'm still working on increasing the impact of my blog.
WHERE DO YOU SEE BLOGGING IN 5 YEARS? WILL YOU STILL BE DOING IT IN SHAA ALLAH?
Insha Allah I'll continue blogging for as long as I live. It's a great platform that I feel helps me fulfill my responsibility as an active member of society as a Pakistani, a Muslim and a human. Hopefully in 5 years, I'll no longer be anonymous. I'll be renowned enough to have the impact on people that I want and I'll be writing with a brighter ray of confidence and vigour.
WHAT ARE YOUR FUTURE GOALS FOR YOUR BLOG?
I hope to increase my knowledge of Islam more, for myself, and so that I am able to spread awareness about it more effectively and be able to answer the tough questions that people, Muslim or non-Muslim, ask about it.
I hope to increase the outreach of my blog in my country so that I can be an effective advocate and ambassador of my country. Pakistan has experienced years of negative opinions from international media which has damaged foreigners' and locals' perception of Pakistan very strongly. It has started to experience a great improvement but it still needs a lot of support so I want to be part of that support.
Lastly, as a medical student and future psychiatrist (Inshallah), I want to spread awareness about health, especially mental health and psychology. I wouldn't want people to randomly search the internet for diagnosis of symptoms and harmful medicines from unchecked sources. I want to educate people in a way that a person can understand what I'm teaching them, no matter what job or socio-economic status they are in. However, I'll make sure that my blog is versatile enough that anyone who opens it will find a post of their interest.
WHAT ADVICE AND TIPS WOULD YOU GIVE TO SOMEONE WHO MAY BE THINKING OF STARTING A BLOG?
Write from your heart. Be brutally honest about what you write so people know exactly what you're trying to say. Every detail you add when you write is essential to your reader to know who you are. For example, if you're writing about honesty, don't just write that one should not lie because it's wrong. Write about why it is wrong. Write about how it affects you. Write about how betrayed you feel when someone you love lies to you. Write about the injustice that is done to someone who has been lied to, yet lying is so common. You see what I mean? Don't be objective. Put your experiences into it. If you've read a book you really loved, I want to know how it changed YOU, how YOU feel YOU'VE been enlightened. I don't just want to learn something new, I want to learn more about YOU. 
•••••••••••••••••••••••••••••••••••••••••••••••••••
JazakAllah Khair to Andale for taking the time out to answer our questions. If you wish to connect with her further you can follow her blog Andale Seaworne and on social media: