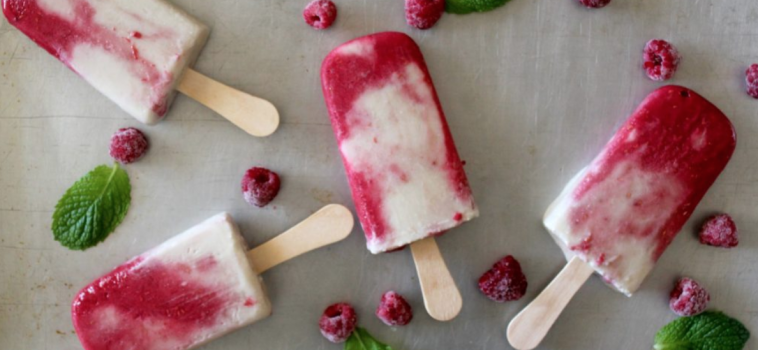 Our February featured blogger is Rubina, blogger at All Floured Up. Rubina is a mom to two beautiful children, wife to an awesome husband, a culinary fanatic and natural lifestyle enthusiast. She absolutely loves trying new recipes, making good food and desserts, and pretty much anything related to food.
WHEN AND WHY DID YOU START BLOGGING? DID ANYONE, IN PARTICULAR, INSPIRE YOU TO START BLOGGING?
Originally, my sister and I began to blog about desserts. That turned into my own food blog, which has recently evolved to include motherhood and natural lifestyle posts as well.
TELL US A BIT ABOUT YOUR BLOG. THE INSPIRATION BEHIND THE NAME AND HOW YOU DECIDED WHAT TO BLOG ABOUT.

My blog aims to educate and help out fellow moms who want to live a more natural lifestyle. I want to give food, organization, toddler activity, and motherhood inspiration to any struggling mamas out there. "All Floured Up" refers to my son during our baking sessions; he gets flour everywhere, including on me!
WHAT'S IT LIKE TO BE A FOOD BLOGGER? WHERE DO YOU FIND INSPIRATION TO BAKE CREATIVE RECIPES?
I love being a food blogger. It's quite challenging making food look appealing and appetizing, especially with kids running about. My inspiration comes from fellow food bloggers, my own healthy eating habits, and sometimes what's in my fridge at the moment.
WHAT'S THE MOST CHALLENGING THING ABOUT BEING A BLOGGER, COOKING AND BLOGGING ABOUT IT?

The most challenging thing by far is consistency. I've struggled with it for a while, because life happens and gets in the way of blogging. Cooking is a daily enjoyment I have, but typing up and writing about my cooking can take quite some time.

AS SOMEONE WHO HOMESCHOOLS, DO YOU THEN STRUGGLE TO FIND THE TIME TO BLOG? HOW DO YOU MANAGE YOUR TIME?
Since we are very flexible with out homeschooling, I use blogging as my "me time". So when baby is napping and the older one is having independent play, I am able to manage blogging. Putting kids early to bed also buys me some extra time.
HAVE YOU EVER FELT OVERWHELMED WITH BEING A HOMESCHOOLING MOTHER AND BLOGGING ASWELL?

I really enjoy blogging; it's my outlet, so no, I don't feel overwhelmed. If anything, it helps me manage my stress by sharing with fellow mothers what I'm going through.
HOW IMPORTANT DO YOU THINK IT IS TO HAVE CLEAR AND PROFESSIONAL IMAGES FOR YOUR RECIPES ON THE BLOG?

It's super important! Image is everything.
WHAT'S THE MOST INTERESTING PART OF BEING A FOOD BLOGGER: BAKING THE RECIPES, WRITING THE POSTS, OR TAKING THE PICTURES? WHY?

I love taking and editing the pictures…but of course nothing comes before actually cooking or baking.

HAVE YOU HAD ANY OPPORTUNITIES ARISE AS A RESULT OF BLOGGING?

I love collaborating with fellow bloggers across social media. Meeting others across the world through an online platform is simply amazing.
WHERE DO YOU SEE BLOGGING IN 5 YEARS, IN PARTICULAR FOOD BLOGGING? WILL YOU STILL BE DOING IT IN SHAA ALLAH?

I expect to be blogging, maybe monetizing my hobby. I really hope inshaAllah to expand my recipe collection on my blog as well. Hopefully it will help my kids in the future, if nothing else!
WHAT ARE YOUR FUTURE GOALS FOR YOUR BLOG?

To expand, to create more content, and to build a community for naturally minded mothers.
WHAT ADVICE AND TIPS WOULD YOU GIVE TO SOMEONE WHO MAY BE THINKING OF STARTING A BLOG?
Be sure to blog about what you absolutely love and are passionate about. Your passion and dedication will show through to your followers, and it will be appreciated.
JazakAllah Khair to Rubina for taking the time out to answer our questions. If you wish to connect with her further you can follow her blog
All Floured Up
and find her on social media:
Facebook,
Instagram
, and
Pinterest
.