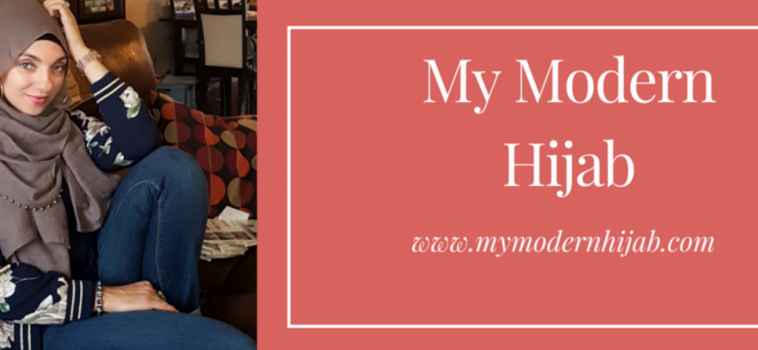 Our August featured blogger is Mona M Ismaeil from My Modern Hijab. Mona  is a graduate of Concordia University College of Alberta. She has an Arts degree majoring in Sociology and minoring in Psychology. She also has an Elementary Education After-Degree. She worked for 3 years as a grade 5 teacher before the birth of her daughter Manessa. Since then, Mona has been focused on her other projects.
***********************************
WHENÂ AND WHY DID YOU START BLOGGING? DID ANYONE, IN PARTICULAR, INSPIRE YOU TO START BLOGGING?
The reason I started my blog is not why I continued. I first started my blog as a marketing tactic when I had my online hijab store Modern Hejab.  I wrote articles that would help me to promote my products indirectly. For example I would write an article about different types underscarves you "must have" then link to my website.  That didn't excite me and I found it hard to blog. It was a chore.
When I to close down my business that's when my blogging become more enjoyable. I decided I wanted to write about things that mattered. Yes, I showcase outfits but I like to think it's not your typical fashion blog. I try to write more about the experience of being a Mohajaba in the west. I try to inspire outfits and style to let Muslims and Non-Muslims know that hijab is and can be beautiful. That fashion and faith can exist together beautifully. 
TELL  US A BIT ABOUT YOUR BLOG. THE INSPIRATION BEHIND THE NAME AND HOW YOU DECIDED WHAT TO BLOG ABOUT. 
My blog is meant to be a documentation of my experience as a Mohajaba Mom in the West.  I actually changed the name from "Modern Hejab" to "My Modern Hijab". It wasn't about just being Modern in Hejab but about My experience. My tips. My advice.  I choose this niche because when I decided to wear hijab 10 years ago it became my passion and my life. 
WHAT'S  THE MOST CHALLENGING THING ABOUT BEING A BLOGGER AND BLOGGING?
Hands down time management and staying motivated.  I have never been able to get to the point where I am getting articles out every week. Also, although ideas are in my head, I sometimes have time getting them out. 
AS  A PARENT, DO YOU STRUGGLE TO FIND THE TIME TO BLOG? HOW DO YOU MANAGE YOUR TIME?  HAVE YOU EVER FELT OVERWHELMED WITH BEING A MOTHER AND BLOGGING ASWELL
Aside from being a mom and I am a momprenuer. My husband is self-employed and I work with him. That means I have responsibilities to his company as well. Although I work from home and on my own time, of course my work has to be a priority.  Blogging is a hobby for me so I try not to let it get my too overwhelmed. 
HAVEÂ YOU HAD ANY OPPORTUNITIES ARISE AS A RESULT OF BLOGGING?
I have! Or more so that people find me through other community work I do and get more excited to work with me when they come across my blog. It seems to give me some sort of credibility.   I have been featured on Muslim websites and blogs. I have been asked by Ministry and Culture and Tourism in Alberta to do a webinar about hijab and other similar opportunities. 
WHERE DO YOU SEE BLOGGING IN 5 YEARS? WILL YOU STILL BE DOING IT IN SHAA ALLAH?  
I think that the world of blogging is just starting. It's really taking off.  I would love to still be blogging in 5 years. If people still care to hear what I have to say. then I'll keep saying it! 
WHATÂ ARE YOUR FUTURE GOALS FOR YOUR BLOG?
I'd love to have a much better system in place for myself and to have built a larger following.  I would love to be a more serious blogger making some sort of income from my blog or have it bring me paid opportunities. 
WHATÂ ADVICE AND TIPS WOULD YOU GIVE TO SOMEONE WHO MAY BE THINKING OF STARTING A BLOG?
I would say to be real and raw and be you. Use your own voice.  Blogs are supposed to be a peek through the eyes of the writer.  So don't get too hung up on sounding professional or formal. That's what other articles are for.  I like for my readers to feel like we are having a conversation over coffee. Secondly, I would say write about what you are passionate about. You have to love it! 
JazakAllah Khair to Mona for taking the time out to answer our questions. If you wish to connect with her further you can follow her blog My Modern Hijab and find her on social media: