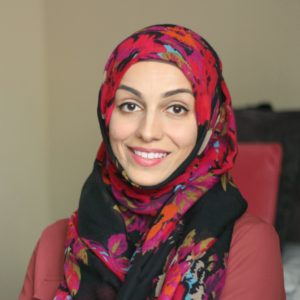 Our November 2016 Featured Blogger is Gemma from Our Muslim Homeschool.
Dr Gemma Elizabeth is a homeschooling mother of three from the U.K. As a passionate advocate for home education, she writes widely on the subject for various publications and speaks to mothers across the country about the benefits of homeschooling. In between the science experiments, read-alouds and math drills, she finds time to film videos for Youtube and writes on her blog OurMuslimHomeschool.com.
WHEN AND WHY DID YOU START BLOGGING? DID ANYONE, IN PARTICULAR, INSPIRE YOU TO START BLOGGING?
I started blogging just over a year ago, in response to all the questions I was receiving about home-education on my Instagram account. My Instagram account started off as a hobby, where I would share the meal I had cooked that evening, a cute picture of my son, or even my latest knitting project!
However, as time went on, it evolved into something very different. My posts about homeschooling were received very well and often led to a cascade of questions about home-education. I decided then, that these questions couldn't be answered fully in the comments under an image; and so I started a blog to help all those mothers who sent me questions!
TELL US A BIT ABOUT YOUR BLOG. THE INSPIRATION BEHIND THE NAME AND HOW YOU DECIDED WHAT TO BLOG ABOUT.
Our Muslim Homeschool is exactly what it sounds like! I write about OUR homeschool, in the hope that it will encourage and inspire other mothers who are considering home-education, or for those who are already educating their children at home.

I chose the word "OUR" very purposefully, because this blog is how WE do things, but it is not the only way to do things. The incredible thing that you will notice with home educators, is that no one does things the same way! We all adapt to our own situations, as well as to the personalities and strengths of our children. Since we all come from different backgrounds with different experiences, the way one homeschooler does things will almost certainly be different from the way another does it! That is why I chose the word "Our."
As I mentioned, my blog started out to answer all the commonly asked questions I received on my Instagram account. Since then, I have also incorporated more product reviews and a monthly favourites blogpost and Youtube video.
WHAT'S THE MOST CHALLENGING THING ABOUT BEING A BLOGGER AND BLOGGING?
The most challenging thing is maintaining good intentions. As the blog and my followers on social media grow, it can be very easy to get sucked into a egotistical and narcissistic mind-set, where each blogpost is only about getting bigger and getting more page views.
I have to constantly remind myself that my blog was started to bring benefit to others, not to benefit myself.
The Prophet (SAW) said:
"The best of people are those that bring the most benefit to the rest of mankind." [Daraqutni, Hasan]
I believe to be successful in anything, you need to help and serve others, and somehow improve the situation of another person. It is when I renew my intentions, that I do my best writing! Sincerity is the key!
AS SOMEONE WHO HOMESCHOOLS, DO YOU THEN STRUGGLE TO FIND THE TIME TO BLOG? HOW DO YOU MANAGE YOUR TIME?
Yes, I do struggle to find time to blog! However this is not because I homeschool my children. In fact our "school day" is usually finished by noon, potentially leaving plenty of time to blog. The biggest challenge for me is juggling my Freelance writing jobs with writing for my own blog. For me to write well, I need the house to be quiet, and so most of my work cannot begin until the children as asleep. This leaves little time to work!
I have also recently started a Youtube channel to accompany my blogpost, however filming can be a real challenge with three young children at home almost all the time!
Honestly, it's hard to find time. I think no matter what situation you are in; if you are working outside the home, if you are newly married, or the mother of young kids, we all struggle to find time for ourselves and to find time to write.
I try to make the most of what time I have, and then not stress about what I cannot do. My head is full of ideas for blogposts, free printables, pretty photos and useful videos, but I just don't have the time to do it! Alhudulillah, it's all from Allah. I just pray that there is khayr in all that I can do, and ask Allah to put Barakah in my time. Ameen.
HAVE YOU HAD ANY OPPORTUNITIES ARISE AS A RESULT OF BLOGGING?
Yes, mashAllah! The freelance jobs I mentioned previously arose due to my blogging. I have been fortunate to actually start making a little money from my blog, all of which is being reinvested back into it! I have been appointed the Brand Ambassador for Ibraheem Toyhouse, have been accepted into the iHomeschool Network, and was recently made an official blogger for the Muslim Lifestyle Show 2016.
WHERE DO YOU SEE BLOGGING IN 5 YEARS? WILL YOU STILL BE DOING IT IN SHAA ALLAH?
I hope so! I hope over the next 5 years to improve my writing skills so that I can publish better blog-posts, and maybe even write a book! There are many writing courses now available online, as well as writing coaches. I really enjoy the writing process, but there is definitely room to improve!
WHAT ARE YOUR FUTURE GOALS FOR YOUR BLOG?
I have great ambitions for Our Muslim Homeschool! My ultimate goal is to make it into a brand, rather than it being all about me and my children.
I want to create an online platform where Muslim Homeschoolers in the U.K., can come and find all the information they need about home education.
I have plans to launch a new revamped blog by spring 2017 insha'Allah, which will be more user-friendly, with more free printables and useful information for home-educating families in the U.K.
In the next five years, I hope to have found some like-minded mothers to join my team and work on taking Our Muslim Homeschool to the next level insha'Allah!
WHAT ADVICE AND TIPS WOULD YOU GIVE TO SOMEONE WHO MAY BE THINKING OF STARTING A BLOG?
Before you start a blog, really reflect on what you can offer the world. When you put your words onto paper (or your laptop!) what can you give to the reader that no one else can? You need a purpose!
The most successful people in this world have a purpose that bring benefit to others. How is your blog going to help someone else? Examine your heart. Reflect over your intentions. Then you will be successful.
"Only from the heart can you touch the sky." –Rumi
I would also like to take this opportunity to thank Muslimah Bloggers. The support and help this community of sisters has given me has been invaluable. It is such a blessing to be a part of your community. May Allah Bless you all xxx
JazakAllah Khair to Gemma for taking the time out to answer our questions. If you wish to connect with her further you can find her at:
Blog: http://www.OurMuslimHomeschool.com
Instagram: https://www.instagram.com/ourmuslimhomeschool
Facebook: https://www.facebook.com/ourmuslimhomeschool
Twitter: https://twitter.com/OurMHomeschool
Pinterest: https://uk.pinterest.com/OurMHomeschool/
Youtube: https://www.youtube.com/channel/UCasrAhic7AwRbjAcIde5XiA