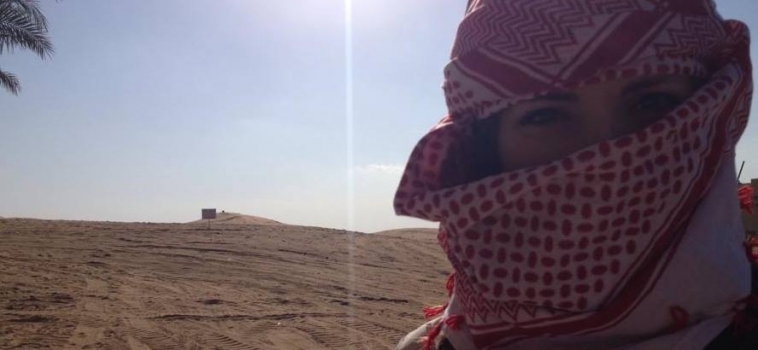 This months featured blogger is Danni, blogger at Danni in the Desert. Originally from the UK, Danni became Muslim after moving to Dubai. She learnt about Islam for two years before making the decision to revert and met her husband from Saudi six months later. She now lives in Mecca with her husband and two cats.

WHEN AND WHY DID YOU START BLOGGING? DID ANYONE, IN PARTICULAR, INSPIRE YOU TO START BLOGGING?

I've always enjoyed writing plus friends and family would encourage myself to write as they enjoyed reading it. Originally it was more as a place to put my thoughts or to be creative. I loved writing fiction. I started off years ago with a Livejournal account (showing my age haha) and then moved to Tumblr and then WordPress. Though I did it more for fun than any actual purpose for the majority of the time haha
After I moved to Dubai, I was getting so many questions about Dubai and what it was like. So that was when I decided to start a more professional blog and I guess to be more serious about it. Answering common questions about Dubai. Back when I started there really wasn't that much information available online and most people had a lot of misinformation about the Middle East, especially Dubai. I was always getting asked if it was okay to drive as a woman or what it was like living in such a strict Muslim country! So it was more born out of wanting to make a difference and help educate others.
I think also seeing so many travel bloggers have these amazing lifestyles and wanting to have more freedom did inspire me to take it more seriously. Nomadic Matt was probably one of the first I noticed saying "Yes you can do this full time." Though it's definitely not as easy as most people think!
TELL US A BIT ABOUT YOUR BLOG, THE INSPIRATION BEHIND THE NAME AND HOW YOU DECIDED WHAT TO BLOG ABOUT.

Originally my blog started as Danni B in Dubai. My friends were constantly messaging me to ask about Dubai and what it's like. They would say, "I'm going on holiday to Dubai, where should I stay? What's good to visit?" So I started writing guides in my blog as I was always answering the same questions! Being able to send them to my blog made it so much easier. Also it was really nice having people to message me and thank me for helping them with information.

Since then I got married and moved to Saudi Arabia. My Domain is still the same but I've changed the name of my blog to Danni In The Desert. Now I focus on life in the Arabian gulf, travel there and Khaleeji culture. Khaleeji is the name given to those coming from the GCC as they share similar cultures. It's the same way that you might say you've both British and English. I still do guides to Dubai as I've lived there on and off for seven years. So I love being able to share some of that knowledge with others! But now I also cover topics about Saudia Arabic and other general lifestyle for those who are curious about the Gulf Co-operation Council (GCC) or for those who live in the GCC. The GCC is made up of United Arab Emirates, Saudi Arabia, Bahrain, Oman and Kuwait.

WHAT'S THE MOST CHALLENGING THING ABOUT BEING A BLOGGER AND BLOGGING?

For me there are two main challenges, one is that more people are moving away from written content to video. So we have to be more creative with our written sources and incorporate into our other online presences. For instance, I do cooking live on TikTok every Tuesday but I share the recipes on my blog. People are definitely still digesting written content but a lot has changed these days and how people digest information. So I'm now using my blog as more of a support for my presence on social media.

The other challenge is that there are now so many elements to manage. All of our social profiles, our websites, creating articles and creating videos. With a company, usually, this is done by a whole marketing team. Often with most bloggers, especially at the beginning. This is done by one person. It's a lot to keep on top of!
DO YOU STRUGGLE TO FIND THE TIME TO BLOG? HOW DO YOU MANAGE YOUR TIME?

Yes definitely! Managing everything is quite a challenge. In today's world managing the blog by itself isn't too much work however managing all the others that go with it. Is definitely a challenge! There are so many distractions in today's world too!

Ways to help are bulk doing things so that you spend one day on a task and use platforms like Buffer to help schedule posts across all your social platforms. Same with doing bulk photoshoots for your Instagram, Pinterest or if you need photographs for the featured images on your posts. It'll just make creating content so much easier and you can just post them at a later date. Make a plan, sit down and write social media ideas. If you feel you're struggling to know what to write about, go back to what you've wrote down. Often thinking about what we want to do can take up valuable time of actually doing!

HAVE YOU EVER FELT OVERWHELMED WITH BLOGGING?

Yes it's easy to feel overwhelmed at times but I think the best thing to do is not to put too much pressure on yourself. It doesn't have to be perfect. A lot of it is similar to the issues of time management and doing things in bulk will help.Also you can re-use content from different areas to help bulk things out a little bit with social media. It doesn't all need to be original content. Get inspired from others but put your own twist on it. Also make the most of it when you do feel inspired and create multiple posts. That all helps not to feel so overwhelmed.
I also started a new business this year (dhikrdaily.com), so I must admit trying to do both is difficult and makes me feel overwhelmed. It can be hard letting go of control and we'd all do things slightly differently but being able to delegate things is an important skill.
HAVE YOU HAD ANY OPPORTUNITIES ARISE AS A RESULT OF BLOGGING?

For sure! I've worked with quite a few different brands. Ranging from dry cleaning companies, to medical centres to Muslim owned food companies. I'm hoping to grow more now that I've moved countries and Alhamdulillah before Coronavirus I had a resort reach out to me. So inshallah more is to come.
WHERE DO YOU SEE BLOGGING IN 5 YEARS? WILL YOU STILL BE DOING IT IN SHAA ALLAH?
I've already been doing my blog for four years so I don't see myself giving it up. Even if it's not in a professional capacity, I'd still keep at as a personal project. I think in 5 years time there'll definitely be more of a move to video content. We're also be seeing more ways to interact becoming more popular so I think blogs will need to become more interactive as we move forward with new technologies. People pay more attention when a blogger talks about a product than just an advert on the internet. I think we'll continue to see more bloggers and influencers working with even bigger brands.

WHAT ARE YOUR FUTURE GOALS FOR YOUR BLOG?
My goal is to increase the amount of people visiting my blog and to monetize it more. I've always thought I needed to reach a certain level before I could do that and always thought I need to do certain tasks or finish certain things before I do. However after putting my blog up and asking for opinions, the main advice I got was to start monetising. So I'm slowly adding more of that side. It'll be interesting to see if the hard work will pay off! I'd love to be able to earn a full-time income from it where as I currently just earn a little extra and get some cool freebies!

WHAT ADVICE AND TIPS WOULD YOU GIVE TO SOMEONE WHO MAY BE THINKING OF STARTING A BLOG?

Don't overthink it and don't worry about it being perfect. There's so many resources in today's world for you to learn. Whether its SEO, making better pins or building your own website. I would make the most of all the resources out there and keep working. If you're wanting to make a full time income out of it, it is a lot of hard work and setting everything up. Driving traffic to your site and up keeping it will take time. So as long as you're dedicated, that's all you need.

I think sometimes the wrong image is given out for bloggers, that you just type an article or post an Instagram post. You charge a company and that's it. There's so much work that goes on behind the scenes. Even just making things visually attractive to entice people or to pick you over other content. So don't underestimate the work it does take but it is possible. Plus it's an amazing feeling when you see your hard work paying off!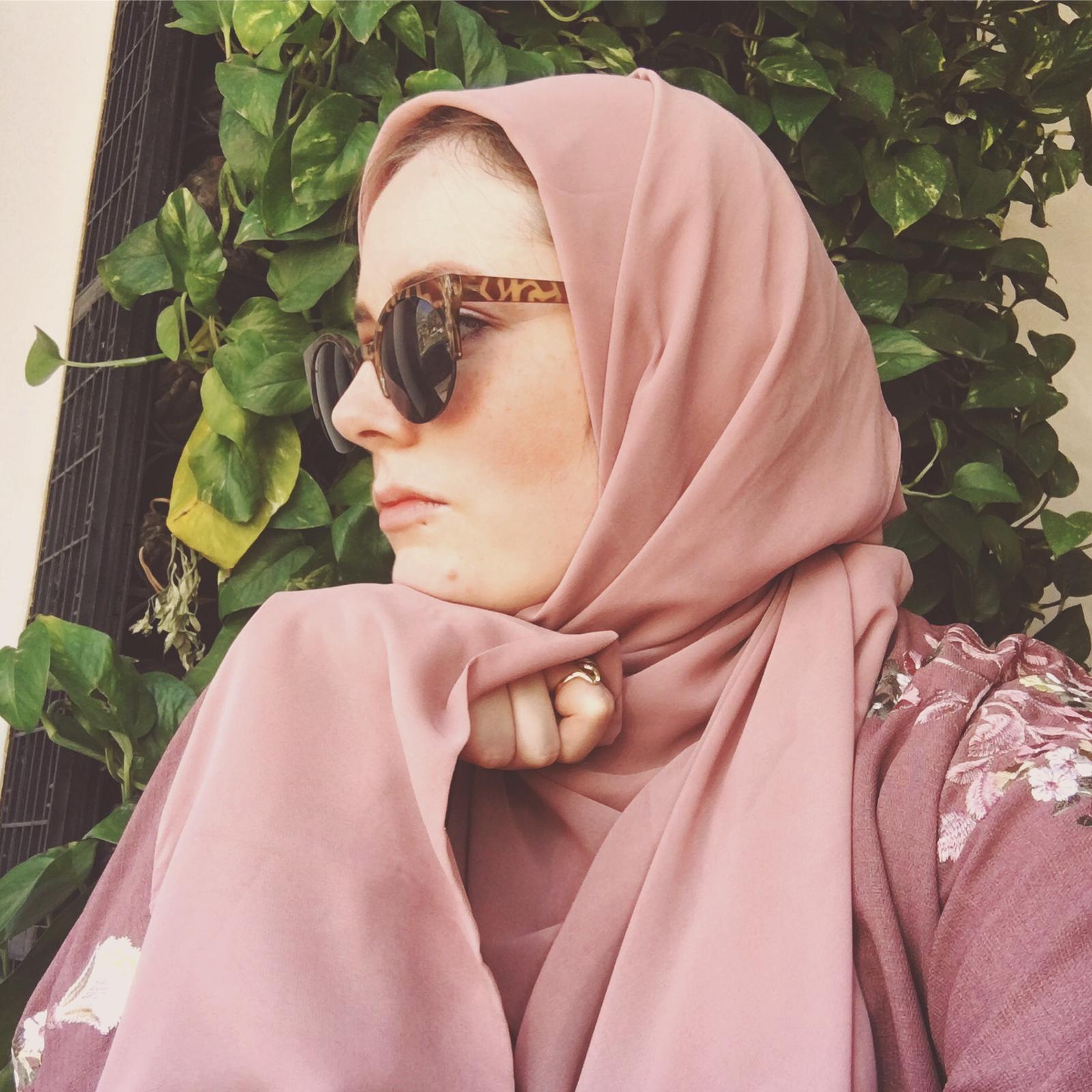 JazakAllah Khair to the sister Danni for taking the time out to answer our questions. If you wish to connect with her further you can also find her on social media: