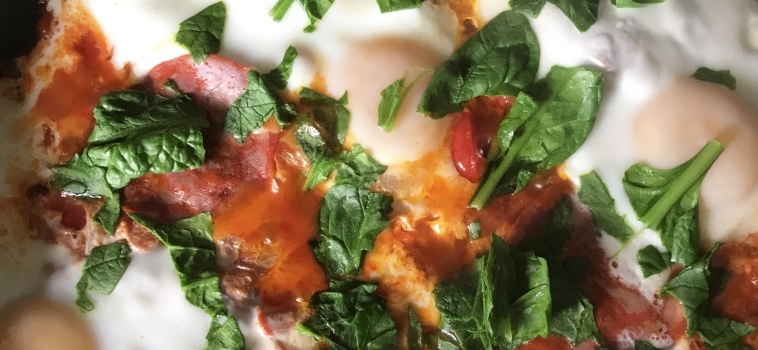 Shakshuka, the well-known Middle Eastern breakfast has made a significant entry to the breakfast menu in many cafes and restaurants in the UK. It's brilliant any time of the day, for lunch or dinner. I've made it for guests for brunch and it always looks impressive when it's not even that much effort.
In Ramadan it's lovely for suhoor (if you can be bothered!) or at iftar as it's pretty filling. Shakshuka should be eaten with fresh bread – toasted sourdough or crusty bread My personal favourite is with çörek which is Turkish bread with nigella and sesame seeds.
I use peppers as the base but you can add other vegetables along with the peppers too or grilled separately on the side. Aubergine is especially yummy, as are jalapeños for that extra kick.
It's important to use a large fry pan that has a lid, as the eggs are steamed at the end.There are many recipes around but I combined a few and this is what I came up with:
INGREDIENTS:
Serves: Two as a main dish/four people as a side dish
1 tbsp olive oil
1 small onion diced
2 cloves of garlic – crushed
1 tin chopped tomatoes
1 tsp tomato puree
1/2 diced red pepper and 1/2 diced green pepper (or use a whole pepper of one colour)
1 tsp sugar
1 tsp paprika
1/2 tsp chilli powder/flakes
1/2 tsp roasted cumin powder
4 eggs (add a 5th if you're feeding more people)
chorizo (optional)
baby spinach leaves/parsley/coriander/spring onions to garnish (optional)
salt & pepper to taste
METHOD:
1) In a large frying pan, heat the oil and then fry the onion for a few minutes, until it softens.
2) Add the garlic and fry for about 30 seconds. Don't let it burn!
3) Now put the tomatoes, tomato puree and peppers in the pan and stir for about 3-4 minutes.
4) Throw in the spices and stir for one minute, then season with salt and pepper.
5) Add a bit of water if the mixture has dried up. Bring to boil and then leave to simmer for 10-15 minutes.
6) Once the peppers have softened and the tomatoes reduced, it's time to add the eggs. Crack the eggs into the frying pan one at a time making sure there are gaps between each one. If you are using chorizo add it now, in between the eggs.
7) Cover the pan with a lid, and put on a low flame for a 1-2 minutes or until the eggs are cooked. Take the pan off the heat. It's tricky to get the egg white to cook and have the yolk still runny. Even if the yolk is not runny it still tastes good.
Finally garnish with the herbs you're using and serve in the fry pan. This is important as dishing out into individual plates will not give you that wow-factor. If you want, sprinkle salt and pepper onto the eggs before eating.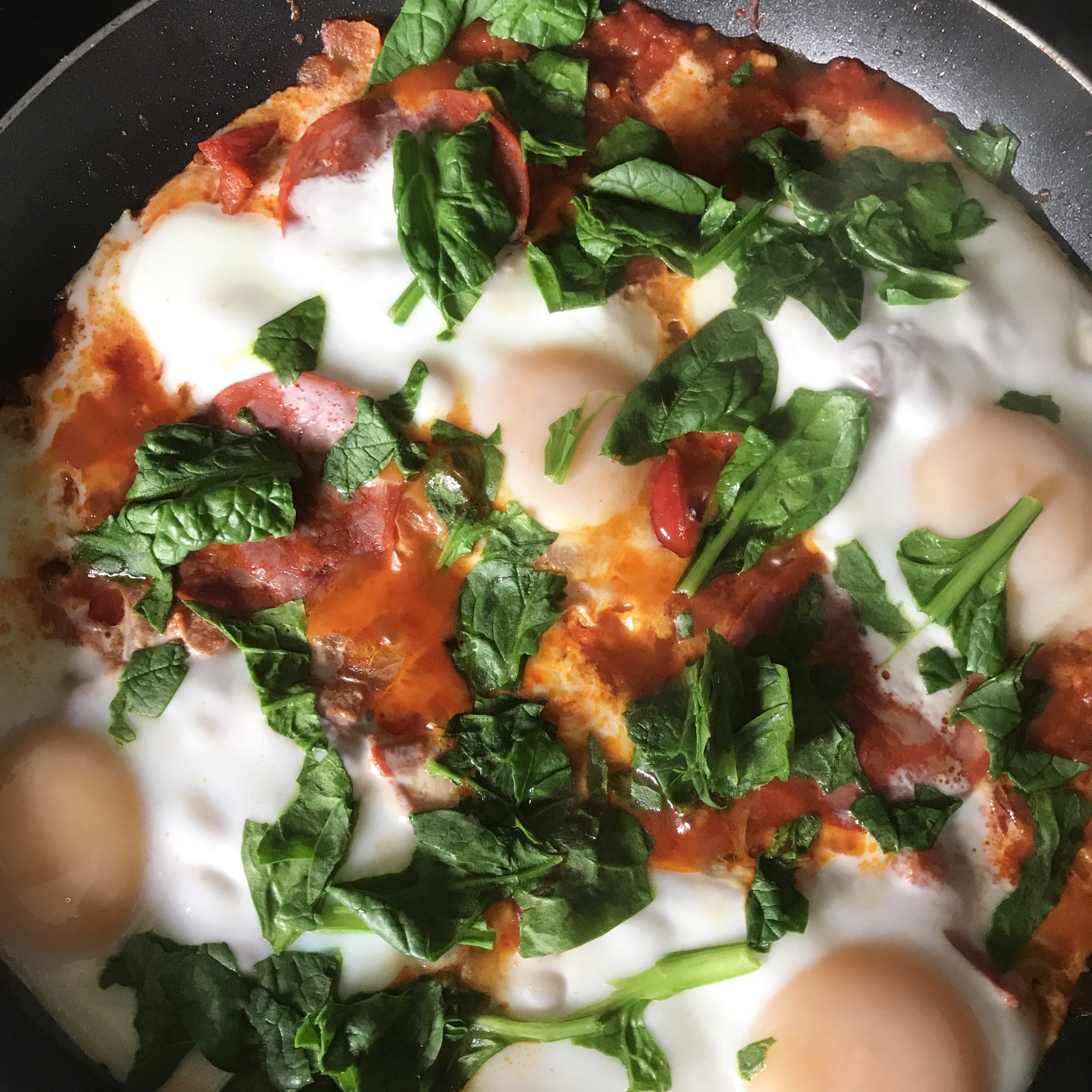 Eat with fresh bread, accompanied with hummus and olives.
---
Author Bio:
Sharmeen is a Muslim lifestyle blogger (https://britpakgirl.com) who writes about food, travel, days out and current affairs. You can find her on Instagram @britpakgirl usually cooking, eating, out on walks, or just making fun of her kids.