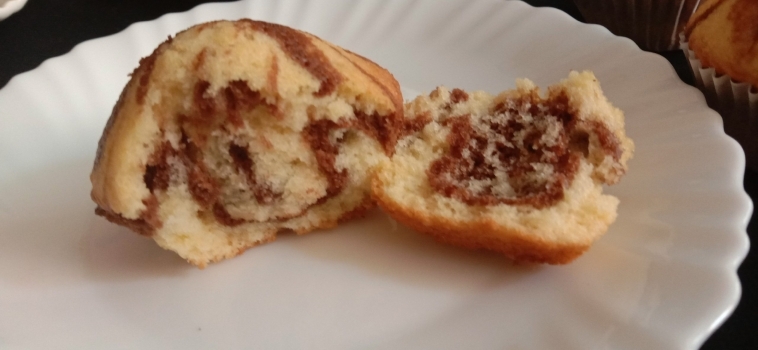 Assalam o Alaikum,
Ramadan Kareem to all readers at Muslimah bloggers.
I am Afreen Zia, a Pakistani  food blogger. I have a passion to cook healthy food and to share my tried and tested recipes on my blog Afreenskitchen.
I have shared so many frozen food recipes for Ramadan on my blog.
I am very excited and feel honoured to be a part of this 30 days Guest Posts Series.
I think it is a necessary to plan healthy and quick meals during Ramadan. It helps to save your time for prayers and make it easy to spend less time in the kitchen. We should try to make our Ramadan meals healthy and nourishing.
Today I am sharing a Large batch Marble Muffins recipe which have been made with olive oil for a healthy version. You can also make it with any vegetable oil or with canola oil. All the ingredients used in this recipe are easy to grab from your kitchen pantry. You can make these muffins ahead of time or before Ramadan.
The reason of choosing and sharing this recipe,,,
It is my reliable,simple and tried recipe made from scratch.
It takes only 15 minutes to bake a large quantity of Muffins.
You can save lots of dish washing and kitchen cleaning time.
It is a low budget recipe.
No butter is used, I have used the olive oil, which makes soft and lighter texture.
These muffins stay fresh in fridge for 3 days and in freezer up to one month.
So it is a good time saving recipe for Ramadan.
Requirements,,
Baking time of these muffins is just 15 minutes. You will need to have a jumbo muffin pan or three muffin pans which have 12 count muffin capacity. If you have only one pan which have 12 count muffin capacity then bake in three batches.
Yield.
This recipe will make 36 regular size muffins.
Baking time.
15 minutes
Preparation time.
30 minutes
For freezing the large batch of Muffins,,,,
These healthy muffins freeze beautifully, ready to pluck from the freezer the night before you want to serve them.
You can also take them out from freezer at the time of serving and just re_heat in microwave for 30 seconds. They will become fresh.
Just put your baked muffins in a freezer safe zip-top bag, in one layer, or in an air tight container and freeze.
These muffins stay fresh in fridge for 3 days and in freezer up to one month.
For perfect Baking
Follow the recipe instructions accurately.
Measure the ingredients accurately.
Fill your muffin cups/liners all the way to the tippy top. Overflowing even. (See the pictures for a visual.) Bake the muffins for just 5 minutes at a high temperature. Reduce the temperature to 180°C for the remaining bake time. This initial hot burst of air lifts the muffins straight up, creating a solid dome. The rest of the time at a normal baking temperature cooks the center of the muffin.
Place the pan in the middle rack of pre heated oven.
Do not open the door of the oven before 15 minutes to check the muffins. It will disturb the temperature.
Large batch Marble Muffins recipe with oil
Ingredients;
3 cups plain flour
3 tsp baking powder
2 cups grinded or powdered sugar
6 large eggs
1 cup olive oil or vegetable oil
1 cup milk
1 tbsp vanilla essence
For 2nd batter
1/4 cup cocoa powder
1/2 cup milk
Instructions;
Preheat the oven for 30 minutes. Take three muffin pans which have 12 count muffin capacity Or take a jumbo muffin pan. Line the muffin pans with 36 cupcake liners.
Sift the flour, and baking powder into a large bowl. Set aside.
Take a bowl,add eggs ,sugar and vanilla essence. Beat with an electric hand beater till fluffy.
Add oil and milk. Beat together until you have a smooth mixture.Then add sifted dry ingredients and mix well.
Take out 1/3 of the mixture and place in a second bowl, sieve the 1/4 cup cocoa powder into this mixture.Add 1/2 cup of milk and mix until smooth.
Now, put a tablespoon of the vanilla mix in the middle of each cupcake liner. Then, using another clean tablespoon, put a blob of the chocolate mix in the middle of the vanilla one.
Do this again, alternating between vanilla and chocolate, each time you dollop a blob in, the whole mix will spread out on the base.
By the time you have used up both of the cake mixes, they should have just reached the edge of the cupcake liners. Make swirls or web design on top with the help of wooden skewer.
Bake for 15 minutes,in the middle rack of pre heated oven. Bake at 180°C until risen and firm to the touch.
Remove from the oven and leave to cool in pan before transferring to a wire rack until completely cool.
Then store in an air tight container.