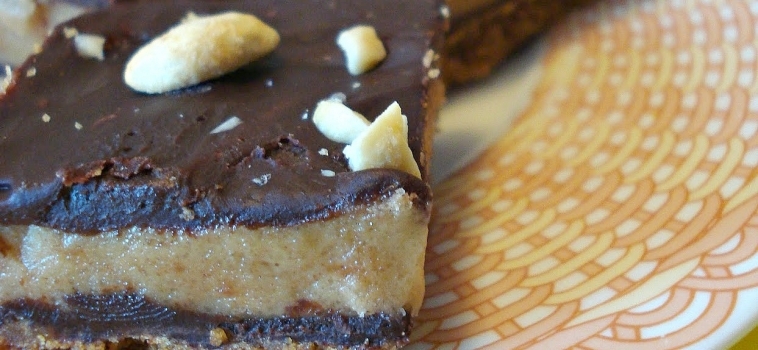 Adapted from Once Upon a Chef
(MODIFIED by Myself)
Salam Muslim Moms! Half of Ramadan is done and soon it will be the last 10 days and then preparing for Eid! 
As we approach towards Eid day, I know I am constantly thinking about what to make for EID. Something that is easy for make yet very delicious and enjoyable by all ages? Something that is Kid and Adult friendly? Something that does not take too much time or efforts to make? Something that I can decorate and arrange on the table for Eid morning?
Well I have come up with a recipe your kids and adults in the family will love.
It looks like an Indian Mithai/sweet dish but tastes like a fudgy rich chocolate treat.
I hope you enjoy it as much as we did last Eid!
________________________________
Yields: 25 squares
Ingredients
Crust:
30-40 tea biscuits or any biscuits of your choice, finely crushed (about 1â…" cups crumbs)
¼ cup brown sugar
3 tablespoons vegetable margarine, softened (You can use butter)
Filling
6 tablespoons brown sugar
2 cups Confectioners' sugar
6 tablespoons vegetable margarine softened ((You can use butter)
1â…" cups smooth peanut butter
Pinch of salt (Skip if you used margarine)
Chocolate Ganache Topping
1 bag of dark chocolate chips
6 tablespoons heavy cream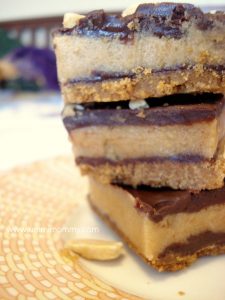 Directions
1. Preheat oven to 375 degrees and spray an 8-inch square baking pan with non-stick cooking spray.
2. Make crust: Combine cookie crumb, sugar and butter in the bowl of food processor fitted with blade attachment and pulse until cookies are finely crushed. Press mixture firmly into prepared baking pan
Bake for 8 minutes. Set on a rack to cool completely.
3. In the meantime, make the peanut butter filling: Combine all ingredients together in the bowl of a mixer fitted with the paddle attachment and mix at low speed until just combined (do not whip).
Set bowl in the refrigerator while you prepare the rest.
4. Make chocolate ganache topping: Combine milk chocolate chips and heavy cream in microwave safe bowl and cook in microwave at medium power (50%) for 1-1½ minutes. Stir until bowl no longer feels warm. Continue heating at 15-30 second intervals, stirring until smooth and melted. Do not overheat.
5. Put it all together: Use an offset icing spatula (see photo above) to spread about ¼ cup of chocolate mixture evenly over cooled crust; place pan in the freezer until chocolate is set, about 5-10 minutes. Spread peanut butter mixture into an even layer over chocolate (if it's firm, you can use your hands; if it's soft, use a butter knife or spatula). Give chocolate ganache a quick stir to smooth any lumps, then spread evenly over top of peanut butter layer. Cover pan with plastic wrap and place in freezer for 1 hour to set (or, if you're not in a hurry, you can just leave it in the refrigerator for a few hours). When firm, use a sharp knife to cut into squares (make them small as they are very rich!). Keep refrigerated and serve cool.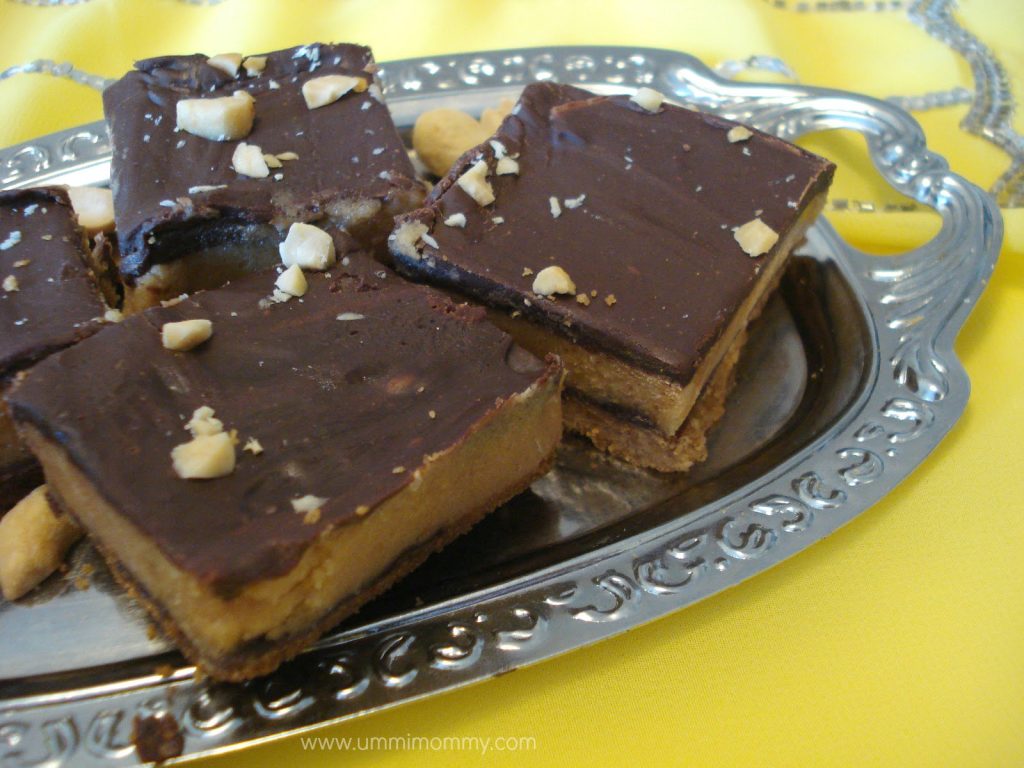 ---
Author Bio:
Tamanna is a Stay at Home Mom Blogger of 3 boys. She is a Homeschooler and a Nature Lover. On Her spare time she loves to write, reflect, read books and get creative with Arts and Crafts with her kids. She is also a Photographer and Graphic Designer by profession! Find her blogging at Ummi Mommy Blog.