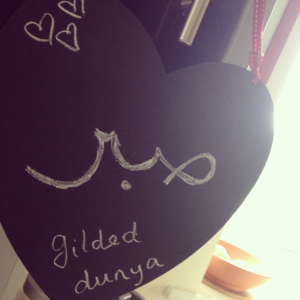 Sabr is a word we often hear Muslims use, but how many of us open-heartedly accept it when others tell us to have sabr.
We usually respond with a big yes, "I should practice more sabr" – but many of us feel we can't show any more sabr, or that the person advising us doesn't even know how we feel.
Allah throughout the Quran uses the word sabr. He uses it to describe the characteristic of a believer. Of course, that is one of the reasons we try and console people when they are tested and tell them to find comfort through sabr. But how many of us mean it? And more importantly, how many of us like hearing it?
Sabr isn't something we can actually have within ourselves because others have told us to. It has to come from us, it has to come from the innate belief that resides in our hearts – it must be because we appreciate what it means to Allah when His slaves show sabr.
My mum recently spoke to me about Asiya, wife of the Firaun. We all know she was a beloved slave of Allah. She lived in the home of a tyrant and she believed in Allah when he (the firaun) wanted everyone to believe there was no greater being than him – astaghfirullah. Despite all this, Asiyah continued to remain firm in her faith.
READ MORE AT GILDED DUNYA