Assalammu Alikum,
Do you miss your childhood? Apart from pure state of innocence and overwhelming love from elders, what makes childhood special? It's the desire to explore. I love seeing a child's face gleaming with joy on learning simple things. When was the last time you felt like that? Can we still experience such uncontainable excitement on accomplishing simple stuff? Yes! We could.
Within each of us is a child, eager to learn and explore. I never knew a needle could bring out a child in me. I am not speaking about my visit to a Doctor. This needle works on a thread, but it is not sharp! Instead it has a hook at its end. Have you guessed, what is it? CROCHET. This had a huge positive impact on me. Let me share with you how it helped me.
Why Crochet?
When I am free, I feel an urge to hold a gadget and explore. I had written all about it in my last post. I didn't want to turn into a game/media addict. I had to do something.
As I was wondering how to refine my life, I learnt that my grandma wanted to gift me her crochet needles. Ah! Long back I had enjoyed making a crochet cap. (Well I had attempted to make a flat circle with chain and split knots. It accidentally turned into cap. shhh! Let it be our secret. 😉 ) I decided to give it a try. I took out my crochet needle and explored a couple of basic tutorials on the net.  The yarn and the needle kept me away from fiddling with the keyboard. Initially, I couldn't hold the yarn right. Instead of online puzzles, a bundle of yarn was now challenging me! Do you think I would give up easily? No way, I had to tame my fingers to bend the yarn. This indeed was an answer for my addiction.
Learning to empathize
I found it difficult to use a needle. But to the tutor (in the video), this needle was like an extension of her fingers. This reminded me of teaching my son how to hold a pencil. I used to wonder why was it so difficult for the little ones. Now it was clear. ☺ Often, we forget the struggles we underwent as a beginner. Learning a new art reminds us our limits and the need for experience. Now, I could empathize better with my sons.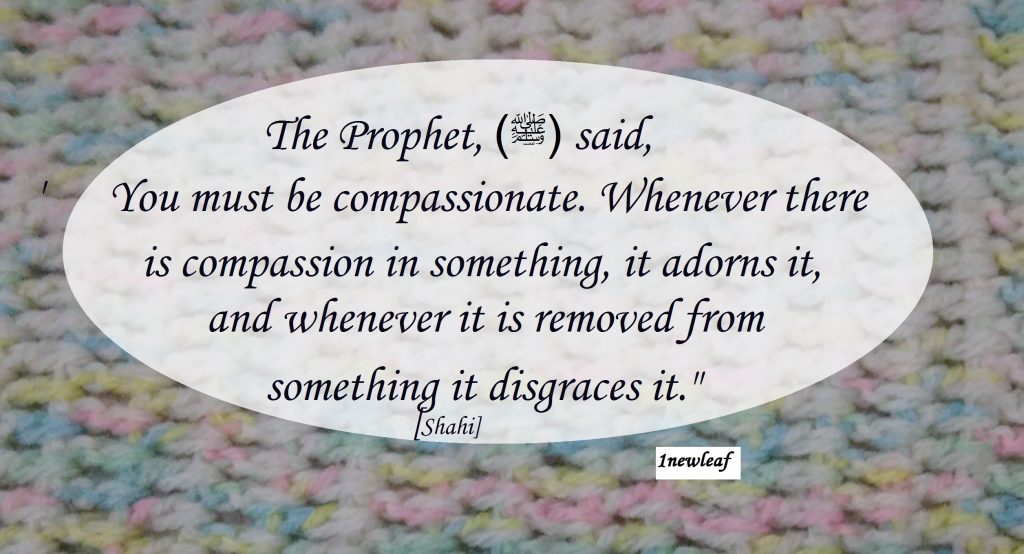 Finally, I was able to make a chain (knots). As I progressed I learnt ABC of crochet – single, half double, double, triple and double triple crochet. Unlike puzzles or games, the result of my practice was in my hands. Honestly, it looked no better than a scribbling. It looked more polished on the tutor's hands. Well, I wasn't working on the right bead (the knots). With attention to margins my work turned neater. Now I had a renewed appreciation for handiwork. I recollected how often I had argued with poor vendors while buying an art work. I could appreciate handiwork better.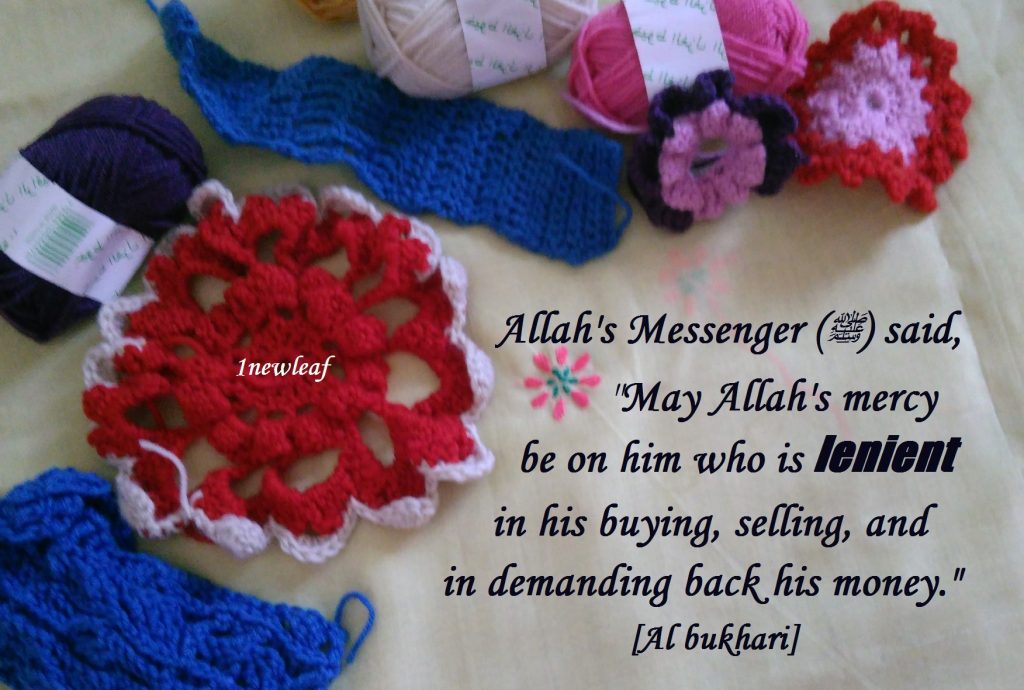 Valuing Time
I tried making some coasters. It is pure magic to see plain long yarn turn into beautiful clusters and floral patterns. A crochet comes to life with repeated action of yarning over and pulling. To crochet, it's equivalent to inhaling and exhaling in order to breathe. Yep, this is all that we need to learn. Yet, there was so much we can do with different combinations and colors!
Let's consider our life as a yarn. All of us are gifted with the same 24 hours. Our life is filled with several simple repetitive actions like – climbing stairs, eating food, sleeping, waking up, etc. Generally, we don't give much thought about them. With these actions, we could be yarning for here after. How?
Our prophet has taught us dua (invocation) for every occasion in our life. Do you remember to say bismillah (In the name of Allah) in the beginning and Alhamdhulillah (All praise belong to Allah) in the end of an action?  If so, we have ensured to knot it in for here after. Do you say Allahuakbar (Allah is great) while climbing and SubahanAllah (Glory be to Allah) while descending. If so we have added one more bead to the knot. Would you like to add more? Add in other duas. Recite dua while entering or leaving masjid, before sleeping and after waking up and so on. With these simple invocations intricated into our life, we can turn our 24 hours into moments worth living.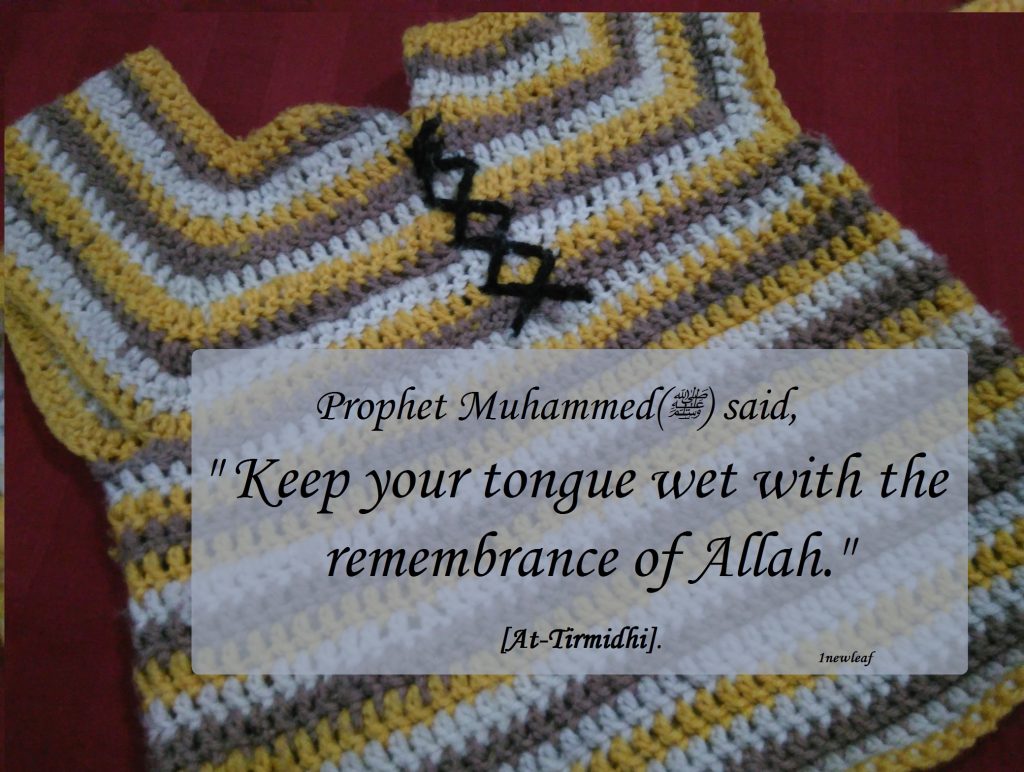 Strengthening Bonds
Do you remember how it felt to do a craft work at school? I was reliving the excitement. Before I could think of what to do next, I got a request for a sweater from my hubby. I decided to make sweaters for my sons first. I saw a few tutorial on you tube and settled for one I was comfortable with. The little one (3 years) was very pleased with the attention he was getting. It involved an easy stitch- Half double crochet. As I practiced the stitch I would think about my granny. As  a child, I had seen her work on the border of a shawl.   Later, she had gifted this priceless shawl to me along with numerous lace works she had done. Honestly, could there be better way to express love than with a useful handmade gift? The shawl would keep me warm and always remind me of my generous loving grandma.  May Allah reward her in abundance for every bead she has worked on. May I be blessed with a heart like hers, which finds joy in giving things. And, may I be blessed with love of my grandparents for many more years to come. Aameen.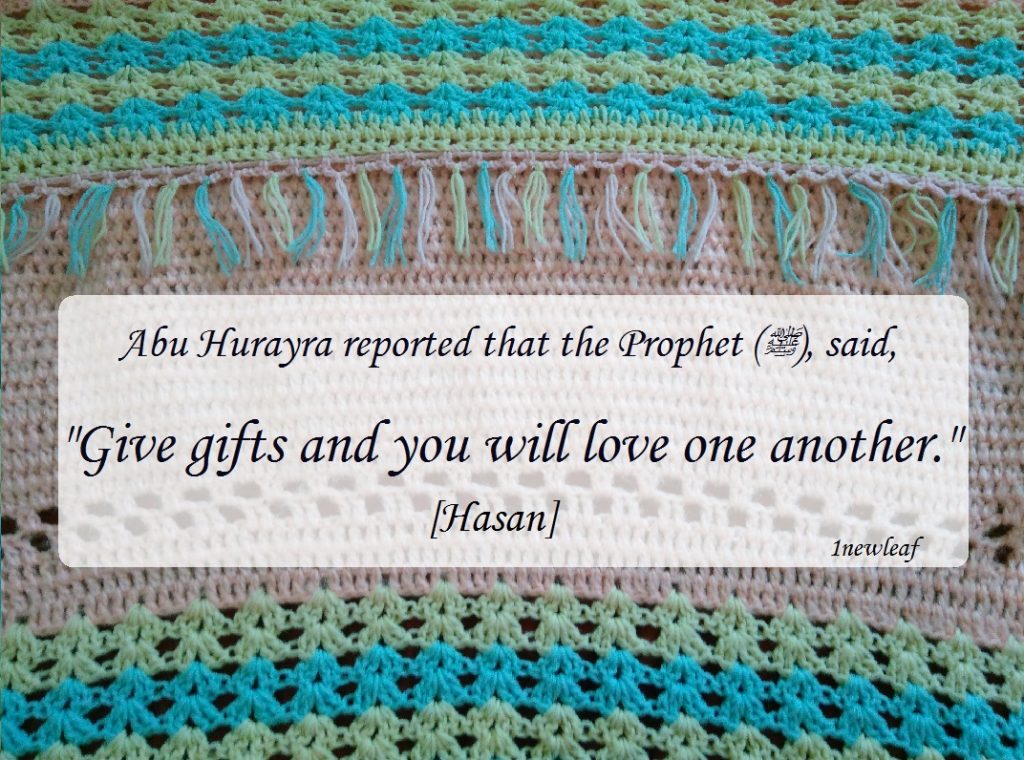 Within three days, I completed the sweater! Alhamdhulillah, I had managed to design a multicolor sleeve less sweater for my little one. I didn't know how to add buttons to it. So, I used lace to close the front opening (zig zag pattern). The rugged look really matched his personality. No sweater in the market could replace this. I hoped this sweater would last for several generations and keep several kids warm. Maybe someone in the future will appreciate my simple work too. ☺
Rewind
Now my elder son was upset. He wanted a sweater too. I was not going to follow the same design or pattern. Something more challenging would be fun. I decided to try basket weave. For this I had to learn front and back post crochet – to make the work stand out or hide. This was tougher than I had expected. It required more yarn and time. I made several mistakes. So, did I waste good amount of yarn on this? No. Well, with crochet we can rewind with ease! We just need to pull the yarn to unwind. Alhamdhulillah, I was able to rectify my mistakes. How I wish I could do the same with my life – go back to some point and start afresh.
Are there any regrets in your life? I have a long list. We cannot go back into the past but still we can have a clean record! Does it sound too good to be true? Well, Allah is The Most Merciful and He loves to pardon. With sincere repentance, we could shed our sins away. After all, pleasing Him should be our prime concern. Still, how often do we repent?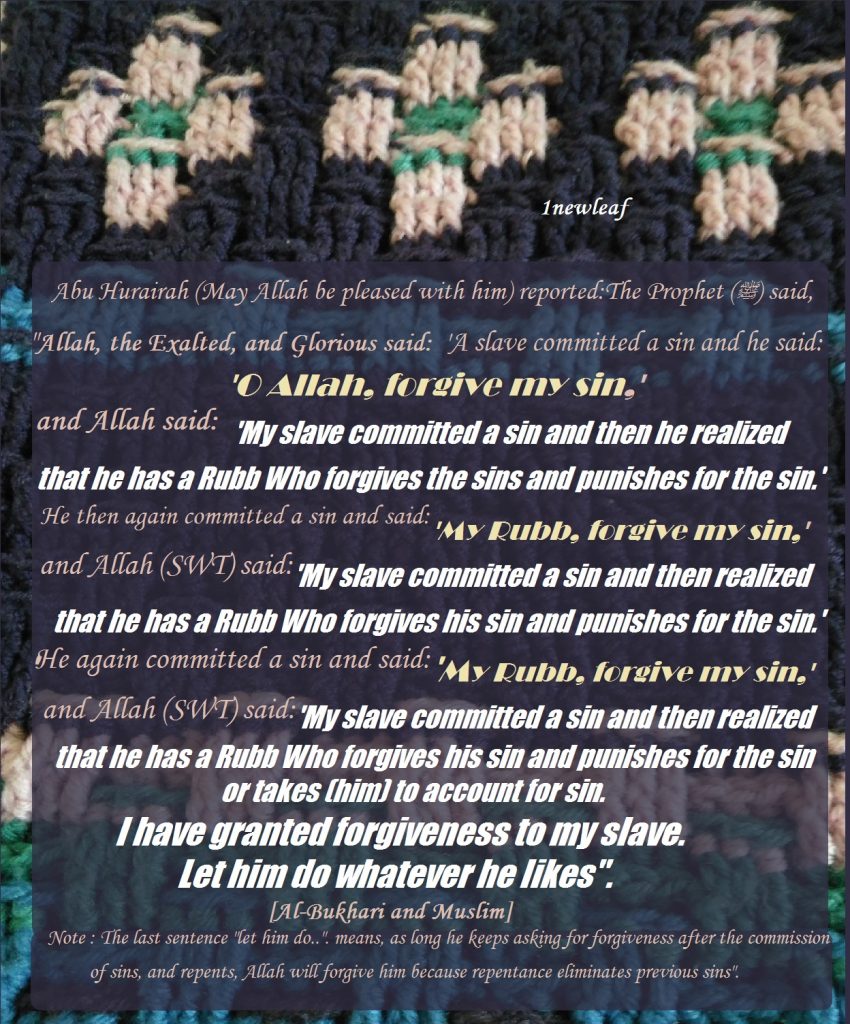 It took me more than two weeks to complete the sweater. I was surprised at the outcome. May our book of deeds look better with our sins forgiven. All praise be to Allah who is always eager to forgive. ☺
Appreciation
Finally, it was my hubby's turn to get a sweater. It was really nice to see my relatively silent hubby involved in something I was doing. I picked a real hard design with cable patterns which cross over (should be piece of cake for professional). I planned to combine designs from two different tutorials. Every day, having returned from work, my hubby would rush to see how much I had completed. I would place the incomplete work on him and see how much more work needs to be done. 😉 I loved seeing his face gleam as I did this. In spite, of knowing absolutely nothing about crochet he would be generous with his suggestion and I would oblige. I had always had an overwhelming desire to wrap my entire family in my love. Well, with crochet, I have indeed managed to do it. ☺ One can't make out, how pleased am I to see my entire family wear what I made. Alhamdhulillah.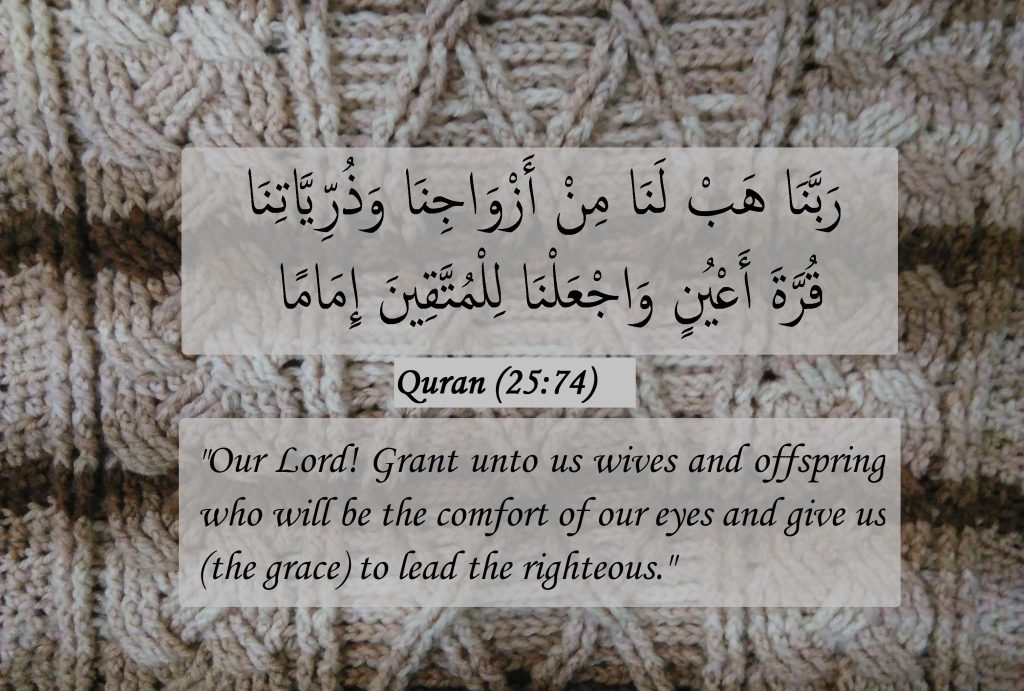 A useful hobby, could strengthen bonds of love.
Bonus
Handmade crochet work is of great value. Alhamdhulillah, this could help anyone make a decent living from the comfort of one's home.  With time, simple projects could be worked even with our eyes closed. This made me easier to catch up few missed lectures. In fact, it helped me concentrate better.
On the down side, when unfinished work is left unprotected, children could easily unwind the work. My little one used every opportunity to unwind as much yarn as possible. I could do nothing. Initially, I was angry. Then I realized, there is no point blaming a kid while as a grownup, I had failed to preserve it. I was turning more patient and vigilant.
My grandma was very impressed with my work. How can one become an expert? Here is her advice –
"YOU CAN DO ANYTHING AS LONG AS YOU ARE PERSEVERANT AND WILLINGLY TO UNWIND AND RECTIFY YOUR ERROR."
This should be mantra for successful life! This hobby, was not just keeping me away from gaming but was also teaching me perseverance, patience and importance of Tawba (Repentence).  Indeed crochet helped me improve.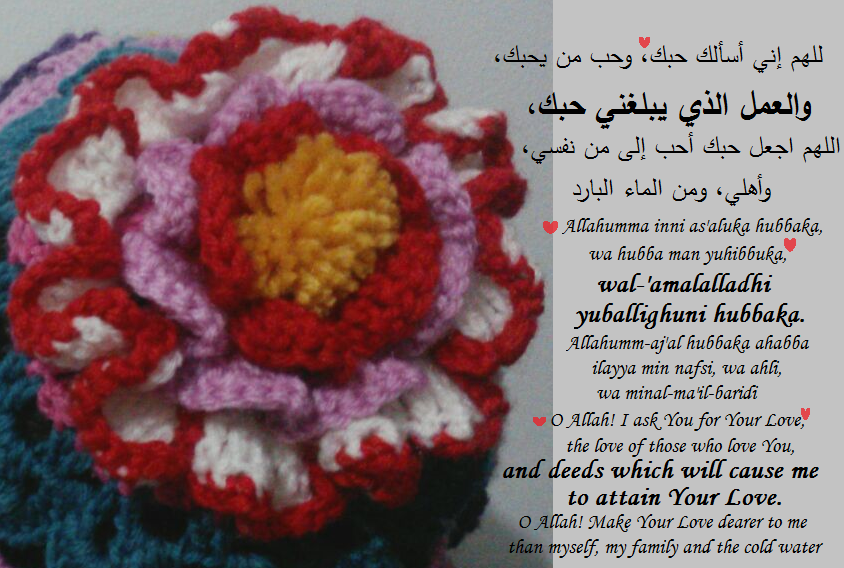 If you think you are wasting your time, or, if you are bored with the usual routine, would you consider learning something new? What would you like to do? Do let us know, how your hobby helps you.