Hafsa's Creative Corner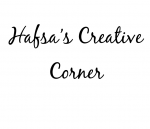 Name:
Hafsa's Creative Corner
Short Description:
Hi, I'm Hafsa, an Australian Muslim teen blogger who blogs about just about anything that I find interesting, cool, or helpful and I think you will too.
Description:
Welcome to my corner of the web! I post anything from crafts to cool websites. I launched my blog in 2014 to share my interests, and if you love art, craft, reading, or anything in between, you'll feel right at home!