Ramadan is the only month in the entire year that I truly look forward to. It is when my soul yearns for the peace and tranquillity this month has to offer. Alhamdulillah, it is the beautiful month in which the Holy Quran was revealed. The month of many sacrifices, soul searching, personal reflections as well as giving sadaqah to the poor and needy.
"Oh, you who believe! Fasting is prescribed to you as it was prescribed to those before you, that you many learn piety and righteousness" (Q 2:183)
In Cape Town, South Africa the spirit and ambiance of this auspicious month, Ramadan is felt and heard everywhere. Wallahi, there is no better place to be than Cape Town! The women make extra sweet cakes and desserts such as delicious pancakes, fritters, koeksisters etc. and tantalising savouries like samoosas, pies, spring rolls and dhaltjies (chilli bite) etc. to send to their neighbours. The children normally take the prepared treats over to the neighbours so there is an exchange of either sweet or savoury treats. Some days you will receive fresh fruit or dates and nuts – which is perfectly normal as this exchange has nothing to do with what is sent but the thought that counts. Giving to your neighbours, family and friends and ensuring that everyone is able to break their fast with something. Every other mosque is having their own Dhikr programme for the month and every other organisation is trying to raise funds from communities to make up non-perishable Iftar parcels for those in need. This is how you feel and embrace the true essence and beauty of Ramadan in Cape Town.
Ibn 'Abbas told Ibn az-Zubayr, "I heard the Prophet, may Allah bless him and grant him peace, say, 'A man is not a believer who fills his stomach while his neighbour is hungry.'"
Taraweeh
Most people will break their fast at home with dates, some vegetable soup and savouries and perform Maghrib prayer at home. Some men will go to Masjid for Maghrib, but majority spends that time with their families. We have our local Islamic radio station, Voice of The Cape broadcast every night from different Masjids within the Cape Town – Paarl region. Alhamdulillah, we very fortunate as this allows the mothers that stay behind to look after their children, the sick or elderly as well as anyone not able to go perform Taraweeh for personal reasons to be able to at least tune in and listen to the live broadcasts from the various Masjids. After Taraweeh prayer everyone will gather again to have a light meal to end off the day.
Boeber Aand
The 15th night of Ramadan is referred to as "Boeber Aand" in Cape Town where we traditionally make boeber for the family as a treat. It is to celebrate the milestone of completing half of the fast, Alhamdulillah. Boeber is a Cape Malay milk drink made with butter, vermicelli, milk, sago, cardamom, stick cinnamon and rose water. For a quick and easy recipe go to the Boeka Treats website here. It tastes delicious!   
Laylat al-Qadr
The last ten days of Ramadan is very sacred and special Alhamdulillah. With Ramadan slowly coming to an end, everyone is seeking the night of Power, Laylat al-Qadr.  It can occur on any of the odd nights during the last ten days of the fast. On the 27th night majority of mosques have a program running from after Isha prayer till Fajr prayer. They also provide suhoor for the men and women that stayed all night. Masjidul Quds in Gatesville, Cape Town is popular for having programs throughout the month of Ramadan as well as special guest lectures. Men perform Itikaf in the Masjid during the last ten days of Ramadan. Itikaf means to be in isolation in a Masjid or at home (females) with the intention of solely dedicating your time to the worship of Allah (SWT).
Moon sighting
The Crescent Observers Society (COS) known as the "Maankykers" normally meet at Three Anchor Bay and Signal Hill as well as various other points within South Africa for the annual sighting of the moon for Eid-ul Fitr. Hundreds of Capetonians have Iftar at this viewing point as it is a cultural tradition. This normally takes place on the 29th day of Ramadan. Consultation with one another from all viewing points takes place regarding whether moon has been sighted or not. If the moon is sighted, then the Takbir is melodiously recited signifying the end of Ramadan and the start of the month of Shawwal. Watch this short video clip of the moonsighting in Cape Town by Yazeed Kamaldien.
Abu Hurayra reported Allah's Messenger (ﷺ) as saying: "Observe fast on sighting it (the new moon) and break (fast) on sighting it (the new moon), but if the sky is cloudy for you, then complete the number (of thirty)." (Muslim)
Eid-ul Fitr
The women normally start with Eid preparations after the 15th day of the Ramadan. The preparations are all about Eid lunch and breakfast menus, shopping lists, clothes etc. It is also time for cleaning the house and getting it ready for the big day of Eid. Children normally receive money from the adults on Eid. Families go visit their neighbours, friends and families on this special day to wish them all an Eid Mubarak.
Despite all our own planning for Eid we still do not forget about the less fortunate. Alhamdulillah, in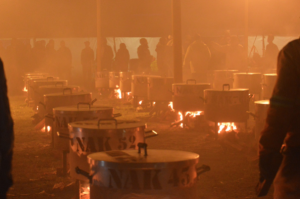 Cape Town we are fortunate to have organisations that assist those in need with the help of generous donations from the communities. Organisations like Mustadafin Foundation, South African National Zakah Fund (Sanzaf), Boorhaanol Institute as well as Nakhlistan provide 169 litre pots of food for the needy (app. 85 000 people), Ramadan & Eid food parcels for the month as well as clothes for children for Eid day. This ensures that nobody is left behind without a proper cooked meal as well as a nice outfit for the special day of Eid, Alhamdulillah.
Ramadan is the month of the Quran where Muslims immerse themselves in the recitation of the Quran, Duas, Dhikr and in the remembrance of Allah (SWT). It is a time to feed the soul with the melodious recitation of Allah (SWT)'s words and guidance. May Allah (SWT) grant you and your families a blessed month of Ramadan. May all your Duas and sacrifices be accepted Ameen. From my home to yours, may you have a blessed Eid-ul Fitr with your family and friends, Ameen. 
---
Author Bio
Waseema Petersen is the owner of a Graphic Design company, Was. Co Creations established in 2017. Her business is about assisting small businesses as well as start-ups with their marketing and branding material in the form of online & print designs and concepts. She started her blog 'Our French Adventure' last year to keep in touch with family and friends back in Cape Town, South Africa as she currently resides in France with her husband and their four children.
She thrives on being creative and adding value through the design of marketing material for her clients. Her hobbies are spending quality time with her family, watercolor painting as well as photography. You can find her blogging at: https://waspadventures.wordpress.com/