Lupus Muslimah Chronicles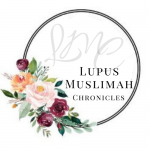 Name:
Lupus Muslimah Chronicles
Short Description:
A blog consisting of an array of topics, inspirational, trending and even some heart-wrenching topics.
Description:
This blog was created to raise awareness of lupus, an autoimmune condition I was diagnosed with at the age of 16. I will be sharing with you my experiences, battles, and survival techniques with the condition and much more. Life has taught me a lot of valuable lessons after the diagnosis, ones which deserve to be shared. Religion is the number 1 priority which has been ever since I realized why God has given me this condition. I wanted to take a holistic approach to my blog so alongside raising awareness I will also be sharing other posts that take my fancy. Basically anything I feel like talking about on the day!