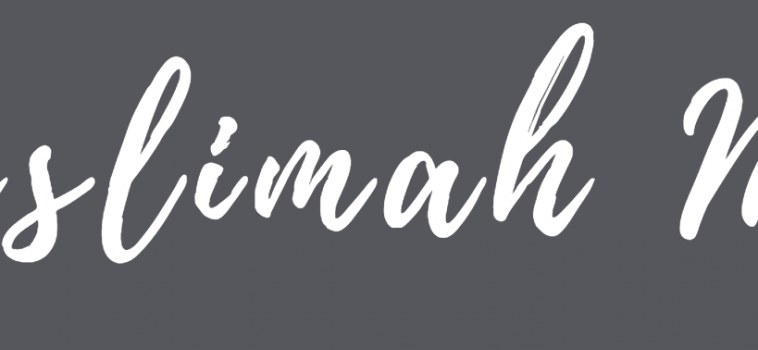 Our August 2017 featured blogger is Sumaira Zaheer, author of The Muslimah Mommy. Sumaira is a Canadian blogger from Edmonton, Alberta. She is also the blessed mom of four beautiful and active children who keep her on her toes, and teach her life lessons everyday! 
WHEN AND WHY DID YOU START BLOGGING?
I started blogging in 2014, after having my parenting Instagram page for a few months. It's funny because in high school or even in University, becoming a blogger never came to my mind; however, after working in a financial institution for a couple of years after graduating from university, made me realise that I wasn't happy. What made me happy though, was writing! I thought the
DID ANYONE, IN PARTICULAR, INSPIRE YOU TO START BLOGGING?
One of my professors, who taught a Non-Fiction Creative Writing class, gave me that push to pursue my dreams of becoming a writer. I still remember his expression when I told him I was majoring in business management, he was completely shocked because he thought I was pursuing an Arts degree with a major in writing! When I finally decided I wanted to start a blog, I sent him an e-mail asking for his opinion, and he thought that was a great a way for me to share my love of writing with others- without his support and encouragement, I don't think I would have believed in myself enough to start blogging, which then led me to write for amazing online platforms such as Productive Muslim.
HOW DID YOU CHOOSE YOUR BLOG NAME?
Selecting a name was extremely tough initially because I had zero clue as to what direction I wanted to go in with my blog. In the end, I went with a name that describes who I'am – a Muslimah mommy. It's very simple and to the point.
WHAT'S THE MOST CHALLENGING THING ABOUT BEING A BLOGGER AND BLOGGING?
One of the challenges with being a blogger is putting your life out there for others to criticize. Writing about my personal life struggles leaves me feeling vulnerable, however I share my real life experiences because I know there are other mothers feeling the same way as I'am. It's hurtful when someone comments on your blog post or social media post in a rude manner, but ultimatley it's the amount of overwhelming positive feedback I receive that keeps me going!
AS A MOTHER AND BLOGGER DO YOU STRUGGLE TO FIND THE TIME TO BLOG?  HOW DO YOU ORGANISE YOUR TIME?
Absolutely, all the time! Being consistent has been a great challenge for me, especially after having my fourth baby last year. Having young children means that I don't put too much pressure on myself, and in the end I'am satisfied with knowing that I'm doing the best I can considering my situation. Afterall, being a mom of an active 1 year old who doesn't sit still nor sleep well, a 5 year old and a 6 year old who constantly fight with each other, and a 9 year old who always seems bored is no easy task!
HAVE YOU HAD ANY OPPORTUNITIES ARISE AS A RESULT OF BLOGGING? IF SO WHAT HAS BEEN YOUR FAVOURITE ONE?
Through blogging, I have met AMAZING sisters from across the globe who I have had an instant connection with! There have been special friendships that have grown from these connections; I truly feel like these connections would not have been possible if I had not started my blog. The opportunity to connect with these women truly has been a highlight for me!
WHERE DO YOU SEE BLOGGING IN 5 YEARS? WILL YOU STILL BE DOING IT IN SHAA ALLAH?
I have no idea what the future holds for me and my blog, but right now I can say that I will continue to blog about my life for as long as I can.
WHAT ARE YOUR FUTURE GOALS FOR YOUR BLOG? IS THERE ANYTHING SPECIFIC YOU ARE AIMING FOR?
I don't have an exact goal for my blog, except to continue to write about key issues mothers face. So far, I have written about my experience with postpartum depression, the pressure of having a male child, getting through an unplanned pregnancy, raising a young daughter who wears the hijab, and society comparing mothers to each other (amongst other topics); I plan to keep spreading awareness about certain topics that may make us feel uncomfortable or that we don't even realise are a big deal.  
WHAT ADVICE AND TIPS WOULD YOU GIVE TO SOMEONE WHO MAY BE THINKING OF STARTING A BLOG
Don't look for perfection and just dive right into it! Sometimes, we delay our passion because we aren't at a "perfect" place. You need to realise that perfection doesn't exist, and if you are searching for it, you will be waiting forever. Moreover, often times we hesitate to start something because everyone else is doing it, but you must remember that you and your personal story are unique. If you are thinking to yourself, "why start a blog when there are tons of bloggers already out there?!" then this is certainly no excuse! We all can learn from each other by sharing our experiences and our struggles. Furthermore, we can spread hope, motivate, and inspire each other with our success stories in life- which is the most beautiful thing about blogging!
JazakAllah Khair to Sumaira  for taking the time out to answer our questions. If you wish to connect with her further you can do so via:
The Muslimah Mommy – http://www.themuslimahmommy.com/
Instagram – https://www.instagram.com/themuslimahmommy/
Facebook – https://www.facebook.com/Themuslimahmommy/
Twitter: https://twitter.com/themuslimahmmmy