Ramadan Kareem to all the readers at Muslimah Bloggers. I feel honoured to be a part of this 30 day guest post series at  muslimah Blogger. My name is Huma Kalim, an Indian residing in UAE for past 12 years. My blog Ghezaeshirrin  is about recipes from India, food styling  and sometime travelogue.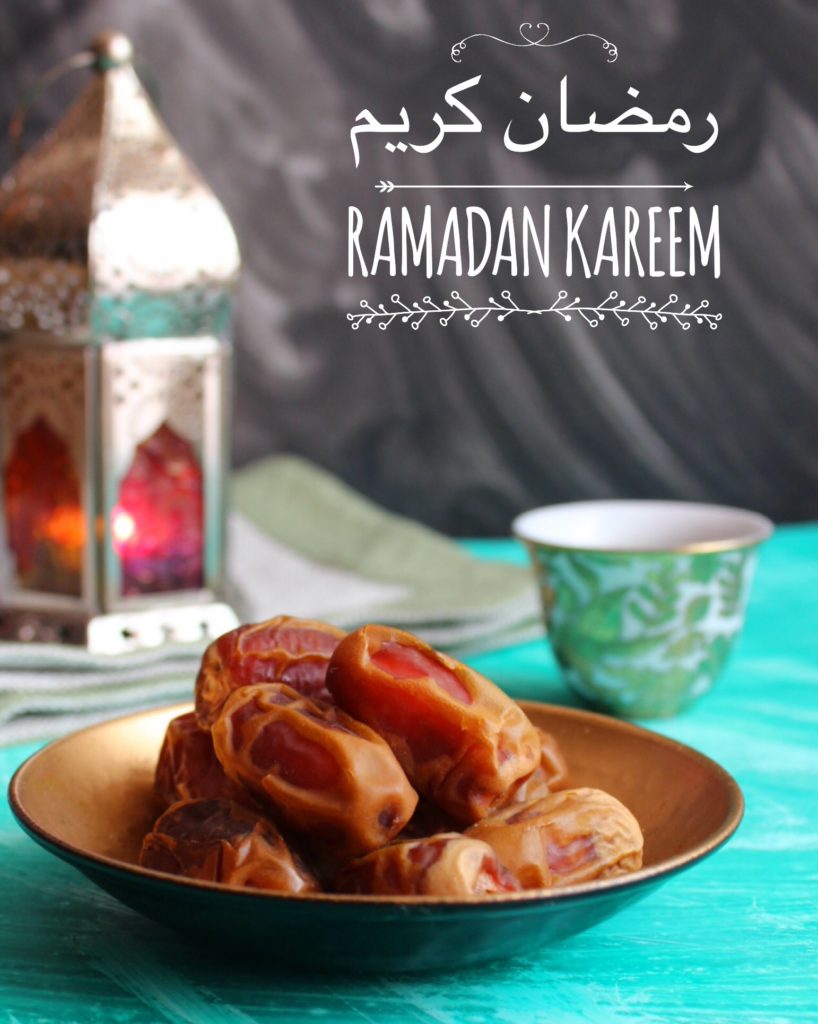 Ramadan for me is the month of  self improvement , self control , discipline and  charity. A month for me to seek his forgiveness  & repentance. Each year I set targets for myself to achieve till the next Ramadan. By doing this, it has helped me attain a sense of peace and calm in my life. A journey to feel close to Allah and his rasool (pubh).   Alhamdolilha, we are halfway to Ramadan and the second Ashra of mercy  has begun.  Our prophet (pubh) said "Repent in  this month to Allah for your sins, and supplicate with raised hands at the time of prayer. This is the time during which Allah Al-Mighty looks at his servants with mercy. This is the time where he answers your supplication, grants mercy and ask for forgiveness.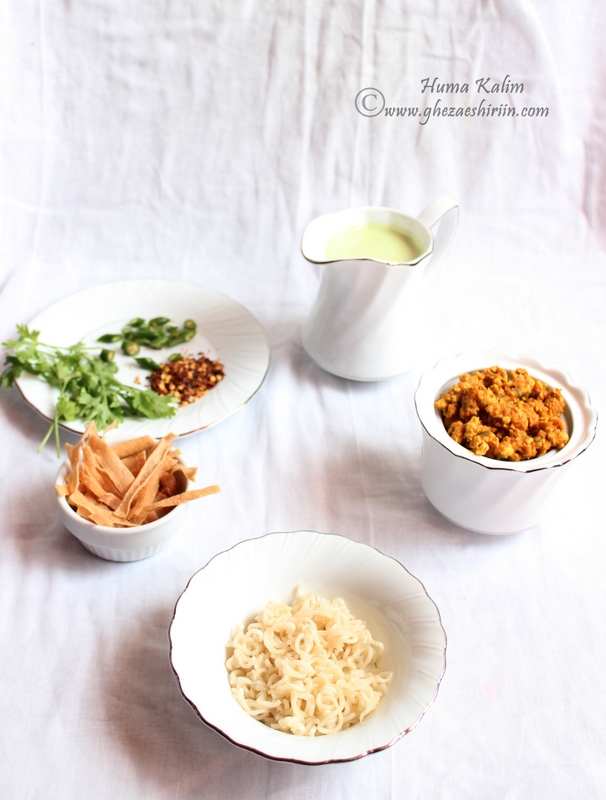 Today I am sharing with you all a one pot meal Khausey. It is an Indo Burmese dish. I had eaten this dish around 15 years back at one of my relatives. Till now the taste still lingers on my tongue for it. Few weeks back I tried to replicate the Khausey  recipe I had at their place by remembering the tidbits of recipes. And the result was a satisfying and tasty meal.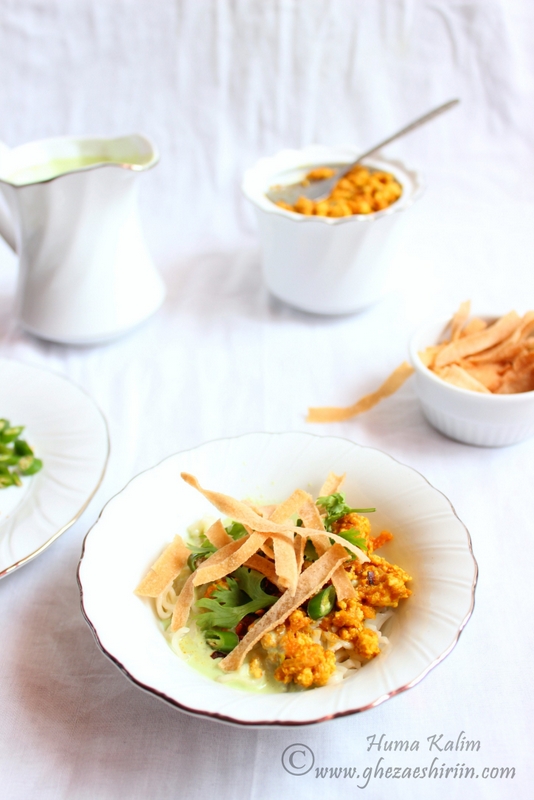 This recipe is of 3 stages. First preparing the meat, second making coconut curry & lastly making noodles or spaghetti .  I have used chicken for this recipe. But you can use mutton or beef according to your choice. Lets check out the recipe.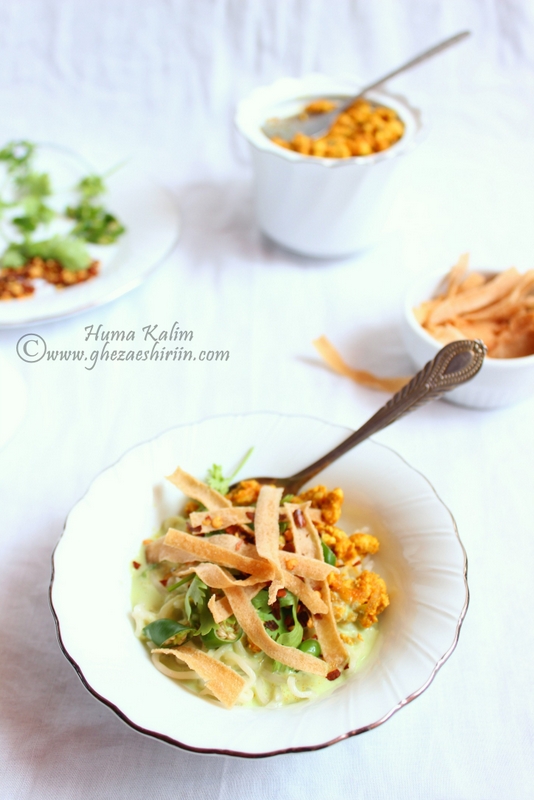 KHAUSEY
Ingredients
I : For the Curry
100 gm chicken/ mutton Kheema
2 tbsp oil
1 tsp ginger garlic paste
20 gm chopped onion
30 gm chopped tomato
½  tsp green chilly sauce
¼ tsp turmeric powder
½ tbsp red chilly powder
¼ tsp coriander powder
¼ tsp garam masala powder
½ tsp salt
II : For Coconut Curry
100 gm coconut milk
3 green chilly
20 gm coriander leaves
1 cup water
1 tbsp gram flour/chic pea flour/besan
Salt to taste
III: For serving
100 gm boiled noodles/spaghetti
2 green chillies chopped
2 tbsp red chilly flakes
3 tbsp chopped coriander
½ cup of fried or toasted samosa / spring roll wrap (Cut spring roll or samosa pastry into thin strips. Fry or toast in oven till brown)
Method
For the meat curry: Heat oil in a pan. Once hot add onion. Fry till translucent, add in ginger garlic paste and chilly paste. Fry for few minutes. Add in chicken kheema. Stir continuously to break into pcs. Add in tomato paste, turmeric,

 

red chilly powder, coriander powder and salt. Cook on a low flame till chicken is cooked in its own juices. This curry will be semi dry.
For Coconut curry : Blend together

 

coconut , gram flour, green chillies & coriander leaves in a blender to form a paste. Add in water & salt. Take out the mix in a deep bottom pan. Cook on a low flame for 5 to 8 minutes till little thick. Keep aside.

Assembling the khausey: In a bowl spread noodles. Layer it with chicken curry. Pour over coconut curry. Sprinkle chilly flakes, chopped chillies, coriander leaves. Finish it over with some toasted or fried strips.

To be served hot.
Notes:
Any kind of meat can be used for this recipe

Spice level i.e use of chillies can be done according to your taste

Khausey is served hot. So meat curry, coconut curry and noodle should be hot.