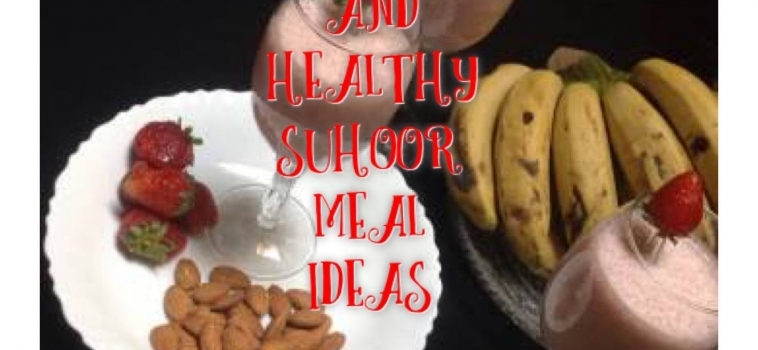 Assalam o Alaikum
I am Afreen Zia, a Pakistani lifestyle and food blogger. I have a passion to cook healthy food and to share my tried and tested recipes on my blog www.afreenskitchen.com as Sadqa e jaria.
Ramadan Kareem to all readers at Muslimah bloggers.
I am very excited and feel honoured to be a part of this 30 days Guest Posts Series.
I think it is a necessary to plan healthy and quick meals during Ramadan. It helps to save your time for prayers and make it easy to spend less time in the kitchen. We should try to make our Ramadan meals healthy and nourishing.
Of the two meals during Ramadan, Iftaar is much celebrated. Your Iftar snacks should not be deep fried and recipes should not be time consuming.
Today I am sharing some quick and healthy Suhoor and Iftar  meal Ideas.
By incorporating healthy habits into your Iftar and Suhoor meals, you will hopefully continue to feel positive and healthy during this blessed month. Most of the recipes below are designed to be made ahead, simple and quick, so they will be ready to eat with little preparation and in less time.
Simple and healthy Suhoor Suggestions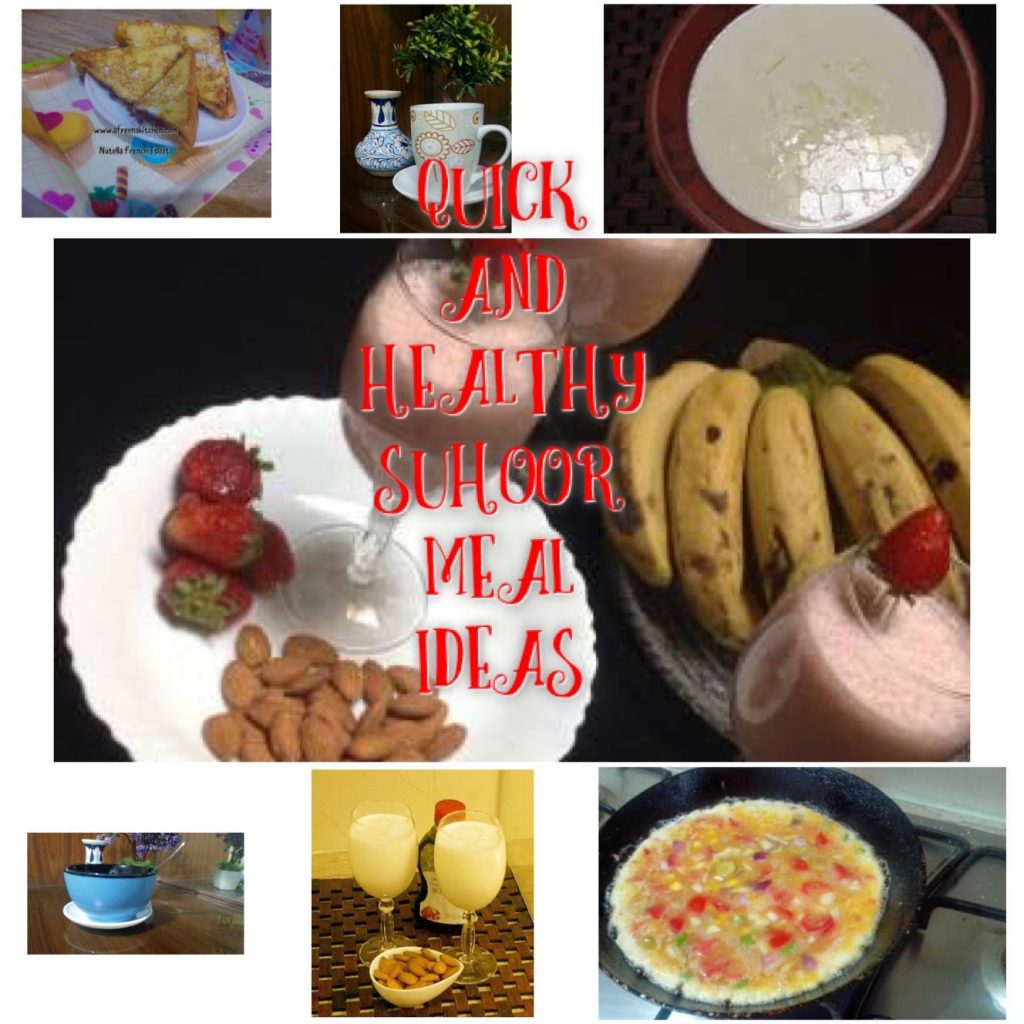 Suhoor should be composed of protein+fruits+dairy+enough water+vegetables+complex carbohydrates +healthy fats+fibre
Avoid salty foods that can dehydrate you and avoid heavy fried items…Make your Suhoor meals simple that will keep you going easy during the long daylight hours fast.
1:::Homemade yogurt recipe
1::yogurt is a must to have in Suhoor. You can make it at home after Iftar and it will be ready to serve at Suhoor time.
Boil 1 litre of milk and let it cool at room temperature. Take a clay pot pour luke warm milk. Now in a separate bowl mix 1 tsp of sugar and 1 tbsp of yogurt. Add this mixture in milk stir well and cover the clay pot with a lid. Put a towel over the  lid and leave the clay pot without changing its place for 6 hours. After 6 hours yogurt will be ready to serve.
2::0atmeal with fruits
2:: Oats have so much health benefits. If you begin your day with oatmeal it will keep you healthy.
You can have oats with your favourite fruits.
Here is a healthy Suhoor recipe with oats.
Oats with mango and dates recipe
Ingredients
Oats 4 tbsp
Milk 2 cups
Honey 1 tbsp
Chopped Dates 4
Mango cut in cubes 1/2 cup
Mango purée 2 tbsp
Method
Boil milk, add  oats and cook for 2 minutes. Take out in a bowl. Let it cool for 5 minutes, now add mango purée and honey. Cover the top with mango and dates. Serve fresh.
3::Dates and nuts milkshake recipe
It is an energy drink for Suhoor.
Ingredients
Milk 1 litre
dates 15 deseeded
Honey 2 tbsp
Pistachios 10
Almonds 15-20
Blend all the ingredients and serve .
4::Fruit Smoothies
You can blend your favourite fruits with honey to make fresh and healthy smoothies.
5::Veg omelette
Add some diced veggies like onion, tomatoes, spring onion, capsicum and olives, to make your omelette healthy.
6::Nutella French Toast recipe
Ingredients
Eggs 3
Castor sugar or fine sugar 4 tablespoons
Vanilla essence 1 tsp
Milk 3/4 cup
Bread slices 6
Nutella chocolate spread as required
Butter for shallow frying
Method
Beat eggs, milk, vanilla and sugar in a bowl with the help of a hand whisk. Spread Nutella on 3 slices then cover them with remaining slices. Cut in half. Now dip these slices in the beaten mixture and shallow fry till golden…Sprinkle icing sugar and cinnamon powder if desired.
7::Fruits and almond Milkshake recipe
It is very healthy drink for all ages. It is a nutritious drink and good to have during Ramadan.
Ingredients
Strawberries 1 and 1/2 cup chopped
Banana 1 big size
Sugar 1/2 cup
Chopped Almonds 10
Milk 3 cups chilled
Ice cubes
Directions
Blend all the ingredients and serve chilled milk shake.
8::Semolina drink
Dry roast semolina with butter, add castor sugar, fine chopped almonds and pistachios. Keep in air tight jar. For Suhoor drink, boil 1 cup of milk and add 1 tbsp semolina mixture. Cook for 2 minutes and serve hot.

Other Suggestions
You can use leftovers from Iftar meal like curries, karahi, etc. with chapati. Use whole wheat pita bread or tortillas to make some wraps, just add vegetables or left over chicken with pizza sauce and wrap it..or make some veg cutlets or kababs before Ramadan and keep them in freezer for Suhoor.
Quick and healthy Iftar Ideas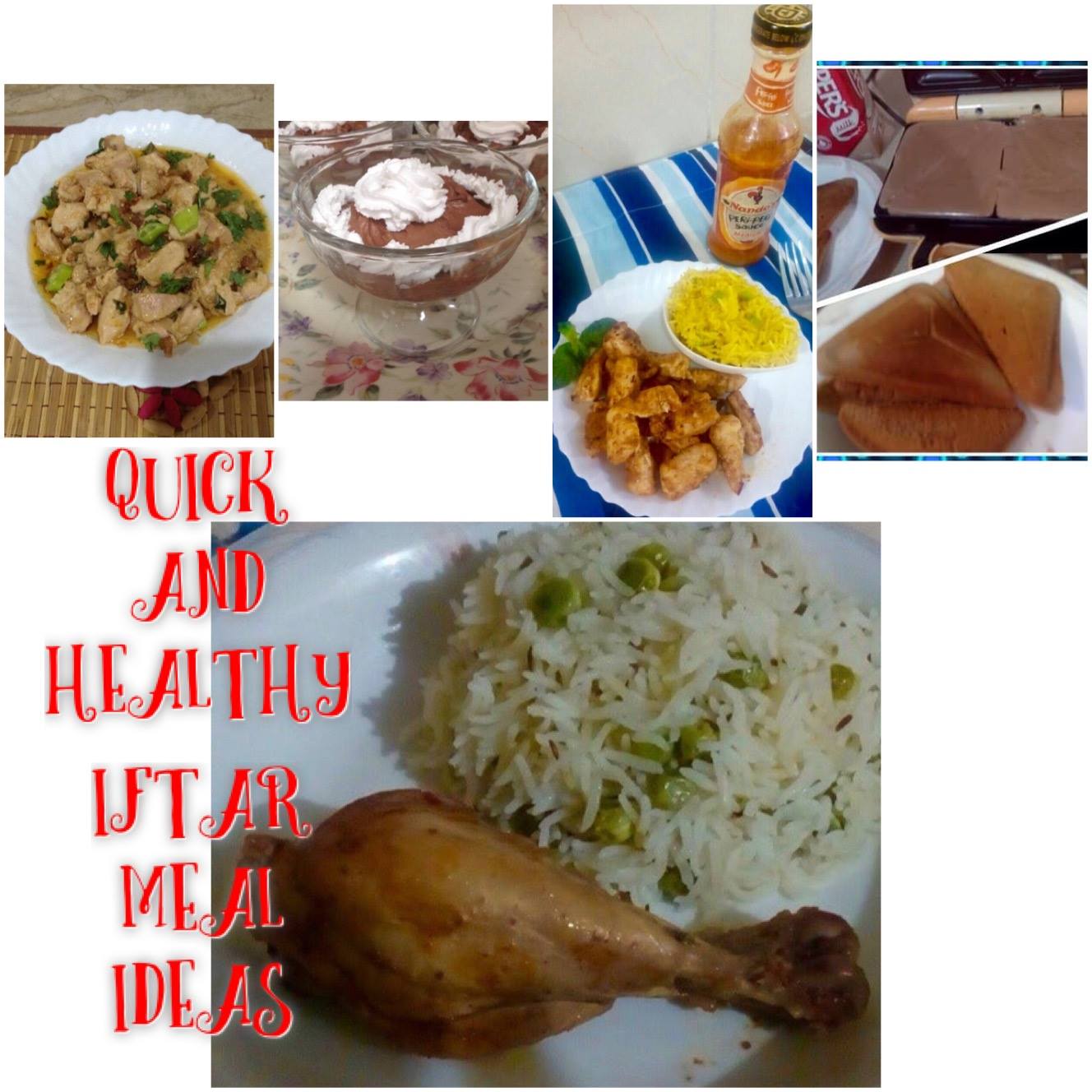 In the place where I live the  people are fond of Iftar snacks which are deep fried like samosas, pakoras, fried rolls, fried chicken, etc…..Every region has their own traditional Ramadan foods. In summers people specially do not feel better after having a heavy Iftar. Here are some quick and healthy Iftar meals suggestions which will save you time.
1::: Pan chicken legs recipe
Ingredients
Chicken leg pieces 6- 8
cumin powder 1/2 teaspoon
Red chilli pwd 1 tsp
salt 1 tsp
Turmeric powder 1/4 teaspoon
All spice powder 1/4tsp
Olive Oil 2 tbsp
Directions.
Take a non stick pan and put all the ingredients with leg pieces. Cover the lid and cook on low flame without adding water because meat releases its own juices. Cook till leg pieces are tender, stir at the times of intervals..do not over cook to avoid breaking of meat. It takes just 20 minutes.

 Then open the lid and fry on high heat.. 

 

Serve hot with sauces or you can have it with rice or peas pulao.
2::Cakes in sandwich maker recipe
Ingredients
Egg 2
Flour 1 cup
Milk 3 tbsp
Oil 1/2 cup
Castor sugar 1 and 1/2 cup
Coco powder 2 tbsp
Baking powder 1 tsp
Vanilla essence 1 drop
Method
Take a bowl and beat eggs and castor sugar till becomes fluffy. Now add the remaining ingredients and beat for 2 minutes on medium speed.
 Grease the sandwich maker and pour batter. Now close the lid and leave it to cook for 5 minutes.
 Take out sandwich cakes from sandwich maker. Serve with Nutella, or with chocolate sauce or with chocolate fudge.
3::Yogurt Chicken boneless

Ingredients
Boneless chicken 500 gms cut in cubes
1 medium size , fine chopped onion ,,golden brown
Oil 4 tbsp
For marination
Fresh Yogurt 1 cup
Ginger garlic paste 1 tsp
Salt 1 tsp
Red chilli powder 1 tsp
Roasted Cumin powder 1 tsp
Roasted coriander powder 1 tsp
For garnish
Bullet green chillies 2 chopped
Coriander leaves 2 tbsp chopped
Method
Marinate chicken with the ingredients of marination for 15 minutes. Heat oil in a pot and fry chopped onion till golden brown. Take it out from oil and keep aside. Now add marinated chicken in the same oil and cook for 20 minutes on medium flame. Add brown onion and fry well. Take out in a serving dish and garnish with green chillies and coriander leaves.
4::Eggless Chocolate Mousse recipe
Ingredients
Gelatin 1tsp
Cold water 1 tbsp
Boiling water 2 tbsp
Whip cream 1 cup
Coco powder 1/4 cup
Grinded sugar 1/2 cup
Vanilla essence 1 tsp
Method
Soak gelatin in cold water for 2 minutes then add in boiling water. 
Beat the cream till fluffy. Add gelatin and remaining ingredients. Beat till smooth. Now put this mousse in desert bowls and decorate with cream. Refrigerate at least 2 hours. Serve chilled.
5:::Peri Peri Chicken bites
Ingredients,
peri peri nandos sauce 4 tbsp
soy sauce 2 tbsp
chicken bone less 300 gm
salt 1/4 tsp
red chili powder 1/2 tsp
garlic paste 1 tsp
Olive oil 2 tablespoons
Lemon juice 1/2 teaspoon
Black pepper powder 1/4 teaspoon
Directions,
1:::Take boneless chicken, cut in small strips.
2:::Mix all above Ingredients with chicken.Marinate Chicken for 10 minutes.
3::::Heat a grill pan or non stick pan,,brush with 2 tablespoons oil.Cook Peri Peri chicken bites for 2 minutes from each side on high heat.
4:::Serve hot with Nandos Sauce.
Jazak Allah khair for reading my post.Have a blessed Ramadan.